Does your company still view the contact center as a "cost" center, rather than a department for improving relationships and increasing revenue?
Contrary to popular belief, its estimated that every $1 invested in the customer experience yields $3 in return, and customer service is at the heart of a successful experience.
It takes dedication, training, and constant innovation to foster a team that delivers quality care. However, not every department in your organization understands how much effort is required to create an indispensable support team.
So, if you're responsible for the contact center but still need to convince senior management that an investment is needed, start by highlighting problem areas that have a clear path for improvement.
If your business experiences one or more of the following issues, then you definitely have a case for upgrading support:
1. Complaints on Social Media
Customers are no longer limited in ways they can express their rage. Social media and customer review sites like Yelp and TripAdvisor affords them many avenues to express how they feel about your service. If you take a look through onholdwith.com, a website that tracks complaints on Twitter, it may surprise you to see how many customers use social media as a public forum to shame you.
If your business experiences a lot of hate from social or other online forums, it's time to revaluate your customer service.
2. Spikes in Call Volume
Does your business experience volume spikes on certain days of the week, times of the day, seasonally, or because of unexpected events like bad weather? There a number of reasons for volume spikes to occur, and the contact center should always be prepared. If your call center still doesn't know how to resolve this common issue, the time is now!
One way to help manage call volume is to provide a call-back option so that any excess traffic can spill over to times that are not as hectic for agents. This gives your agents the ability to provide quality service to each customer, rather than rushing through each interaction just to close the ticket. It's really that simple. For more ways to smooth out call volume, check out: The Call Center Guide to Managing Spikes in Call Volume
3. High Agent Attrition
Constantly battling high agent turnover is a costly issue for contact centers. Lack of engagement and high absenteeism can signal a serious problem, but before your agents fly out the door, it's your job to consider some solutions.
For example, some contact centers actually have an "Engagement Coordinator" who sets up weekly events around the office for agents to participate in. This creates a collaborative culture where everyone feels responsible to make the organization a success. The ROI of an agent engagement program is well worth the investment.
Watch this webinar by Fonolo and GTACC for more suggestions: 4 Practical Ways to Drive Agent Engagement.
4. Long Hold Times
If you ever experienced spikes in call volume, the result was likely long hold times. Fact: Nobody likes waiting on hold (even if your music is lit). There are a number of ways to help curb this frustrating problem that has plagued the call center industry for generations. For starters, having an adequate number of agents is the obvious solution, but sometimes that just isn't enough.
Take a look at this informative whitepaper and make hold times a thing of the past:  Are You Losing Customers to Hold Time?
5. High Abandonment Rates
Got hold times? Then you probably have caller abandonment too. Abandon rates are usually caused by frustration with the customer experience, it can range from hold times, to not having enough resources available to customers, and a host of other issues.
See how Ascend Federal Credit Union was able to reduce abandon rates by 50% in this success story: "How a Credit Union Succeeded in Lowering Abandon Rates by 50%"
6. Low CSAT Scores
You can't understand how customer perceive your businesses if you don't ask for feedback. Low satisfaction scores are created when your customers don't feel special. However, if you ask them how they feel and then implement those changes, you have the potential to revive the relationship. It could be as simple as knowing the customer's name when they call. Regardless, you will always reap the benefits when you invest in showing customers you care.
Here are some trends to consider when investing in customer satisfaction: Top 10 Customer Service Trends for 2017
7. Poor Customer Loyalty
Having difficulty retaining customers and earning repeat ones? According to Harvard Business Review, the #1 most important factor in customer loyalty is reduction of customer effort. If your service department is still passing customers around from agent-to-agent, or your customers can't even locate a fast and effective support channel, you're going to have a hard time building lasting relationships. Invest in creating a memorable experience that keeps customers coming back for more.
Looking for ways to create "WOW" experiences? Read: Mastering #CX in the Contact Center: 7 Tips to Follow
8. No "After-Hours" or Self-Service Option
If customers have access to your business 24 hours a day, then your business should be prepared to assist at any time of the day. Whether it's making an online purchase after business hours, or confirming a last minute flight booking, call centers should be ready to respond. No, not every contact center can afford to hire agents around-the-clock, but with self-service and chatbot technologies, it's possible to provide this type of support. In fact, 45% of companies offering web or mobile self-service reported an increase in site traffic and reduced phone inquiries; a value to every customer service team.
9. You Don't Have Web or Mobile Support
According to eConsultancy, 83% of consumers require some degree of customer support while making an online purchase. So, it's essential that your customer service strategy includes options such as live chat, or a "click" to get a call-back option, on your website or mobile app. Below is an example of a credit union that deployed Fonolo's call-back option on their mobile app and website:
This affordable investment helps you close more sales, and reach customers that you may otherwise never know. It also positions your customer service team for success by providing better ways to get in touch, without aggravating customers to call in for help.
Here's the complete 1st United Credit Union success story: How a Credit Union Improved the Call Center Experience and Generated $10M in New Loans
10. Agents Don't Know Your Customers
Personalization is a fundamental way to provide excellent customer service. 75% of consumers are more likely to buy from a retailer that recognizes them by name, recommends options based on past purchases, OR knows their purchase history. If your agents are not equipped with information about a customer, or cannot track their journey, interactions can get pretty unpleasant. Customers don't want to repeat their problem every time they use a new channel or speak to another agent – it sets the agent up for failure. By investing in data analytics and robust CRM solutions, your customer service teams can have a customized view of the individuals they interact with. This provides the opportunity to make targeted suggestions and better understand the next step in the customer journey.
Learn more about creating a customized omni-channel service strategy in this webinar: 4 Ways to Turn Your Call Center into an Omni-Channel Workhorse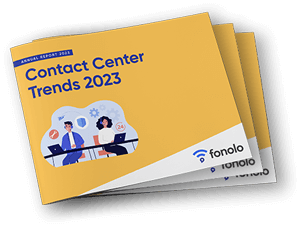 Trend Alert! Contact Center Industry Predictions for 2023
This report offers perspective on where the contact center industry stands today, plus our trend predictions for 2023.