The conference season is upon us! This year you can catch up with Fonolo at SQM's 18th Annual Customer Experience Conference on May 2-4, 2017, at Sparkling Hill Resort in Vernon, B.C. AS a trusted advisor in the contact center industry, SQM will share ground-breaking research for improving the customer experience.
SQM has been conducting CX benchmarking studies since 1996, setting standards for over 500 leading international contact centers on an annual basis. Their experience helping call centers improve First Call Resolution (FCR), One Contact Resolution (OCR) and the omnichannel experience is truly unsurpassed.
This conference aims to help executives learn how to accurately measure and achieve the benchmarks set for today's contact centers. As a sponsor of the show, Fonolo helps call centers who are looking to eliminate hold time, lower abandon rates, or gain better control of call volume spikes. Be sure to stop by our booth to learn more about cloud-based call-back solutions.
Leaders must learn to track pain points in the customer journey to truly understand what areas need improvement. This conference gives us the opportunity to showcase how our call-back solutions make it possible to resolve recurring problems such as caller abandonment, volume spikes, and cost-per-call.
— Shai Berger, CEO, Fonolo
More information on this event can be found at SQM's website.
For live updates and insights from the show – follow @fonolo on Twitter.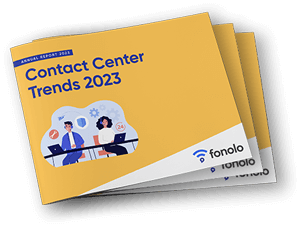 Trend Alert! Contact Center Industry Predictions for 2023
This report offers perspective on where the contact center industry stands today, plus our trend predictions for 2023.