The global market for Business Process Outsourcing (BPO) will reach over $262 Billion in the next 5 years, so it's important to recognize what's propelling this industry forward. Outsourcing has always been touted as a cost-effective alternative for call centers, but advances in automation, big data, and cloud services, has made it even more appealing.
Unless a call center can afford to acquire all of these resources, or create them in-house, BPOs offer a tremendous opportunity to harness their benefits without wasting precious time and money. However, as the industry adjusts to these technologies, the opportunity for error grows as well.
Whether you're a BPO or a business looking to outsource, keep these 4 mistakes in mind when setting goals and expectations:
1. Sacrificing Quality for Quantity
We know that outsourcing the duties of a contact center to a BPO is always in the name of acquiring a greater quantity of resources, be it agents, or technologies, at a lower cost. However, BPOs cannot equate lower cost, to diminished performance. If your BPO is cutting corners in order to service contact centers, for example, employing unskilled workers for lower wages, or not completing rigorous training, you are simply doing a disservice to the industry. Don't give BPOs a bad name for short term gains.
2. Not Measuring or Setting Benchmarks
As with any contact center, managers must be constantly setting and reviewing benchmarks. So, why would a BPO be any different? Not all contact centers service the same industry, and different industries have varying expectations. By tracking and reporting benchmarks, you are not only worth your weight in gold to clients, but you set your BPO up for future successes. Additionally, if you are able to prove success across multiple industries, your market penetration is endless.
3. Little to No Internal/External Communications

This goes hand-in-hand with measuring and setting benchmarks. In order to fully realize your work, communicating those metrics to clients is imperative to your mutual success. Successful methods of communication could be setting up a customer portal where they can access and manage information on-demand. This is also helpful to businesses who are outsourcing in different time zones and may not be able to regularly communicate in-person or over the phone. As you can see in the image blow, Fonolo provides its customers with remote access to the information they need for analyzing call data and minutes of hold time saved. The information you handle will be different, but you get the idea of what's involved with proper communication between a vendor and a company.
4. Underestimating Hidden Costs
It's important for every BPO to be up-front with any added fees or overages that a business may incur over the duration of a contract. This mistake is detrimental to both the outsourcer and the client. Steven Tadelis, an Associate Professor at Berkeley Haas School of Business says:
The key is to ask yourself, what are those measurable or anticipated factors that will help the decision-maker decide whether or not this is a project that is good for outsourcing.
It's important to properly analyze what a business needs and not skimp out just because you want them to sign a contract. Build an honest relationship from the get-go. At the end of the day, being transparent will save everyone time, energy, and money.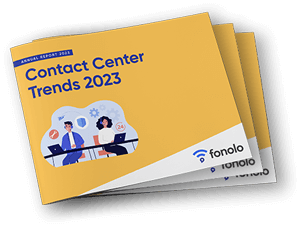 Trend Alert! Contact Center Industry Predictions for 2023
This report offers perspective on where the contact center industry stands today, plus our trend predictions for 2023.