It was February 14, 1876, when Marcellus Bailey, one of Alexander Graham Bell's attorneys, rushed into the US Patent office in Boston to file the patent for what would be the telephone. Today, 141 years later, we celebrate National Telephone Day. On this day we observe the history of the telephone and we use social media to capture our memories of how the telephone has evolved over the years. This day also brings to mind one industry that relies heavily on the telephone, call centers.
Even with the advent of social channels and self-help, the phone is still a sought after medium for answering consumer questions. Unfortunately, call centers have a bad reputation for being difficult places to work, especially for agents (aka CSR's). According to Contact Center Pipeline, agent attrition is a top challenge for call centers. It's easy to overlook just how tough this job is, CSRs often have to choose between conflicting priorities such as keeping handle times low while creating a positive customer experience.
Here's why call center agents quit and how you can avoid it.
Follow the Yellow Brick Road… to Nothing
One of the biggest reasons why agents quit is because call centers offer little to no career path. Your agents know your customers better than anyone else, so rather than losing this knowledge, give them the opportunity to expand their skills. Encouraging agents to build their skillsets can result in tremendous gains for both the call center and the agent. Start by allowing agents to apply for new job openings first, before you post externally.
Lack of Agent Empowerment =
No Superhero 
It's a great feeling when your ideas and strategies are put into place, but most call centers don't give their agents this opportunity. If agents don't feel empowered they won't feel valued, and they'll simply move on to the next organization. By empowering them beyond support calls and allowing them to reflect on critical issues, you're ultimately creating agent superheroes.
Less Money, More Problems
If you could offer agents a promotion or pay raise, why wouldn't you? Everyone is working to make ends meet, and if this job doesn't pay well they'll just find one that does. By offering agents a monetary increase you are basically thanking them for their hard work and the result will be increased loyalty to your call center.
No Access to the Right Technology #Frustrated
Not having the right technology at hand can be infuriating for a call center agent. Make sure they have the tools to get the job done, whether it's social media support or access to customer files via a robust CRM system. If you're worried about budget, remember that some technology aids in lowering costs. For example, call-back technology makes life better for customers by eliminating hold-time, while simultaneously reducing abandon rates.
Other Toxic Agents (yes, really)
The interesting point here is that it has nothing to do with the role itself, and everything to do with the people surrounding it. Many people have had the misfortune of an unpleasant co-worker, one who is negative or just unfriendly. Make a serious effort to weed out the bad agents so they don't force the good ones to leave.
In honour of #NationalTelephoneDay, here's a little history on the telephone:
Because Bell's patent was submitted first (similar patents were submitted on the same day), it was awarded to him on March 7, 1876.
Bell Telephone Company was founded on July 9, 1877, and the first public telephone lines were installed from Boston to Somerville, Massachusetts the same year.
By the end of the decade, there were nearly 50,000 phones in the United States.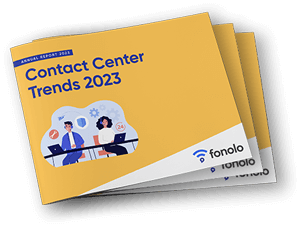 Trend Alert! Contact Center Industry Predictions for 2023
This report offers perspective on where the contact center industry stands today, plus our trend predictions for 2023.