Today is "National Scavenger Hunt Day", a day created to enjoy the good ol' fashioned fun of a scavenger hunt. The first documented scavenger hunt was organized by gossip columnist, songwriter, and professional hostess, Elsa Maxwell (May 24, 1883 – November, 1963), as a party game.
Her birthday now marks its origin. For those who have never played before, a scavenger hunt is a game where teams hunt for a list of random items, each item may have a riddle indicating its whereabouts. The first team to successfully find each item on the list wins.
This is also a great game to use as a team building exercise in your call center. It allows agents to engage with one another and work together to successfully complete a mutual task. It's also a great way to boost office morale.
Here's a mock list of items that you can find around your call center to set the scavenger hunt in motion:
Headset
Highlighter
Stapler
Tape
Calculator
Stress ball
Coffee mug
Post it notes
Water bottle
Tissues
Garbage can
Paper weight
Paper clips
Calendar
Clock
Clipboard
Business cards
Framed picture
Lunch bag
Slippers
Most of your agents will have 99% of the items already at their desks. A good way to spice things up is to hide each of the items and include riddles or clues to indicate where it can be found. For example, if you hide a headset in a bathroom stall you can include a riddle like: "It's not where you talk, it's where you tinkle." The team who checks off the most items on the list, after a designated amount of time, wins.
Another way to organize a call center scavenger hunt is to have teams complete a list of tasks rather than collecting items. For example, create a list of work-related actions for call center agents to complete. This will require a little more management and preparation on your side, but it's a great way to make training more fun.
Here's a list of actions we've created:
Respond to a customer e-mail inquiry
Resolve a live chat inquiry
Close a ticket through "First Call Resolution"
Address a complaint via social media
Report an internal problem with IT
Fill in a new client form
Escalate a conversation from web to phone
Organize a messy workflow
Transfer a call to the correct department
Create an efficient workspace
Teams can brainstorm and collaborate about the best ways to complete each task. The winners will be evaluated on both speed and quality of the tasks completed.
Good luck and happy hunting!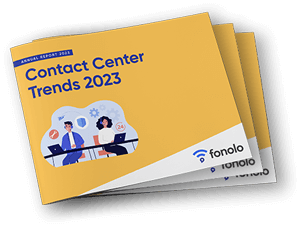 Trend Alert! Contact Center Industry Predictions for 2023
This report offers perspective on where the contact center industry stands today, plus our trend predictions for 2023.