The objective for this year's CCW Conference & Expo is to strengthen the contact center's foundation for future transformation. As innovation in the call center space grows and customer expectations increase, this is a mission Fonolo can get behind. That's why we're excited to be exhibiting once again at the 18th Annual Call Center Week Conference & Expo, June 26 – June 30, 2017, at The Mirage in Las Vegas.
The CCW Conference and Expo will empower leaders to test, learn and try the next big thing in customer experience optimization. Here's your chance to see how Fonolo can help you smooth out spikes in call volume, eliminate hold-time, and reduce abandon rates!
This year's theme is very important to us, and we look forward to helping professionals understand how our cloud-based call-back technology fits into the contact center's framework by improving the customer experience and lowering costs.
— Shai Berger, CEO, Fonolo
CCW is known as the #1 event for the customer service industry, with over 2000 attendees and 150 expert speakers. The event will feature inspirational stories and action strategies for creating a winning culture, developing a customer-centric company, and modernizing agent training. Attendees will discover the latest and greatest in contact center innovations, from over 200 sponsors and exhibitors, in order to set themselves up for success.
Catch up with Fonolo!
Conference attendees can learn more about Fonolo's cloud-based call-back solutions (while having a lot of fun!) by visiting Booth #706. More information about this event can be found at www.callcenterweek.com.
For live updates and insights from the show, follow @fonolo on Twitter.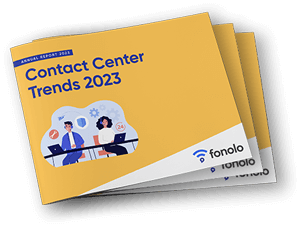 Trend Alert! Contact Center Industry Predictions for 2023
This report offers perspective on where the contact center industry stands today, plus our trend predictions for 2023.