Were you glued to last week's Comey testimony like I was? The Fired FBI Director had some great phrases that are already appearing on t-shirts. My favorite was the use of "fuzz" to describe uncertainty. I said to myself, "Lordy, I gotta work that into my next blog post." Luckily, my weekend reading pointed naturally to an appropriate topic.
The evolution of contact centers from premise-based to the cloud has been covered many times here. I've often described it as an "inevitable migration". Turns out there are dissenting views on the inevitability part. Furthermore, vendors are finding ways to blend the best of both worlds. There is, indeed, some "fuzz" around what is and isn't cloud.
Cloud Trajectory
It's been about a year since our last Call Center Cloudification Update. The trends and driving forces listed there are still in play. For some recent numbers, see Aberdeen's State of the Cloud Call Center 2017. (They have a great statistic in there that on-premises contact centers are 31% more likely than cloud contact centers to experience data security issues. That's a good one to pull out next time someone argues against cloud based on security!)
Many other stats point to continued migration of call centers from premise to cloud. But analyst Blair Pleasant wrote a dissenting opinion regarding cloud call centers:
"…even as the cloud communications market continues its strong growth, and cloud deployments soon overtake premises-based solutions, I believe vendors will still need to provide premises-based options for customers." (Emphasis mine.)
Fuzzy Clouds
Pleasant continues: "The more businesses I speak with, the more I'm convinced that while the cloud will be the sole answer for many, many organizations, others will take a middle ground." Hmm… what is this "middle ground"? Sounds "fuzzy", doesn't it?
There are a few ways a company could take such an approach. For example, the CIC product from Interactive Intelligence uses on-premise hardware for routing voice, but the rest of the platform is remote, in the InIn data center. This was a model that yielded amazing results for the company over the last 5 years. (And led to their lucrative acquisition by Genesys.) It's now being sunset in favor of their new platform "PureVoice", which is a 100% cloud product.
Another example of middle ground is something we do at Fonolo with our call-back solution. It's called our "hybrid" deployment option. Normally, Fonolo integrates with the call center by routing calls to our cloud for further handling. This means voice data must traverse the internet. For some companies this is a "deal killer"… too much regulatory or compliance risk.
Instead, companies can put a Fonolo appliance next to their call center. The appliance will route voice calls, so no audio will have to flow back to Fonolo. Logic and control is still coming from our central servers, so Fonolo still behaves like a cloud service. It's still priced like a cloud service too, which for many people is the primary appeal.
Not Cloud, But Priced Like it
Whether you call it cloud-style pricing or SaaS pricing or OpEx pricing (accountant jargon for "operating expense"), companies are in love with the idea of replacing upfront costs with ongoing usage billing. That desire is so powerful, in fact, that vendors are now offering this in completely non-cloud contexts.
Analyst Sandra Gustavsen shared some great examples of this phenomenon in Simplifying the On-Prem Payment Model.
…traditional telephony equipment vendors are looking at ways to simplify the buying process … for an on-site installation. They recognize the appeal of subscription-based pricing and are introducing new payment models that apply to both cloud and premises deployments…  [they] are already offering subscription-based pricing for their premises-based telephony systems similar to the recurring, OPEX payment models of their cloud-based UC alternatives. We can expect to see more of this as 2017 unfolds.
Room for Both
For many years, call center lagged behind other parts of enterprise IT in embracing the cloud. But now it's making up for lost time! It's a safe bet that cloud deployments will continue to grow in number and size throughout the industry.
I used to think that, eventually, the on-premise call center was going to go the way of the dinosaurs. But I see now a future for them, in certain niches, and retrofitted with cloud-style features, and pricing. If they listen to the market, vendors may still have years of lucrative sales for their on-premise product.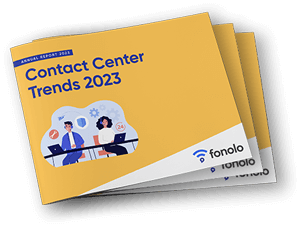 Trend Alert! Contact Center Industry Predictions for 2023
This report offers perspective on where the contact center industry stands today, plus our trend predictions for 2023.