The "selfie" has become an essential part of internet culture today. You're bound to find at least one selfie on virtually everyone's social profile.
Although many studies have linked social media to depression, taking a selfie has actually been reported to do the opposite. In fact, a study by the University of California, Irvine reported that selfies, if done correctly, can actually help boost self-confidence.
So, how can your call center use #NationalSelfieDay to improve office morale and company culture?
Turns out, the secret ingredient to the ultimate selfie is a smile! Coincidentally, we wrote about the power of a smile last week on #SmilePowerDay, so #NationalSelfieDay is another great reason to shine those pearly whites and capture it on camera.
However, in order to get the true health benefits of the "smiling selfie" your smile must be genuine!
In the study mentioned earlier, people noted that they only felt positive selfie side effects when they weren't faking or forcing a smile, and taking photos with a natural smile got easier by the end of the study.
Additionally, looking at photos of other people smiling also had a super-positive effect, as people were likely to compliment the photo, making the selfie taker feel as though their happiness was infectious.
The "smiling selfie" delivered an overall sense of feeling connected to others, which helped reduce stress. Since the contact center is a breeding ground for varying degrees of workplace stress, taking a smiling selfie can help to alleviate this.
"…there have been expanded efforts over the past decade to study what's become known as 'positive computing,' and I think this study shows that sometimes our gadgets can offer benefits to users." – Gloria Mark, Professor of Informatics at the University of California Irvine
Whether you make this a regular part of your office culture or just on special days, designate a small empty space in your office where staff can get together and take a selfie. Liven up the backdrop with some fun wallpaper or branded signage, add in some goofy props (maybe even a bit of music), and capture those smiling faces from a place of genuine happiness. Post, share, comment, and spread the love!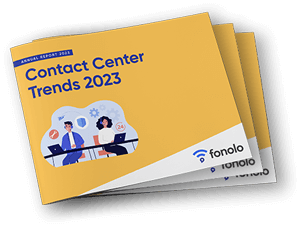 Trend Alert! Contact Center Industry Predictions for 2023
This report offers perspective on where the contact center industry stands today, plus our trend predictions for 2023.