What does customer service mean to you? One might think the answer to that question is universal, but that's not necessarily the case. People will define customer service in different ways.
A retailer might think it means ensuring customers quickly find what they need online or in-store, and a financial institution might think it means ensuring that they respond to customers in a timely fashion.
Since Fonolo is a solution built for the contact center space, I started to think about what customer service means to a call center agent. The first thing that came to mind was handling a difficult customer.
For a CSR to be successful they have to understand how to deliver customer service in the most challenging of situations – with an irate customer.
To make things easier, we've compiled some tips for handling difficult customers. Here they are in no specific order.
Tip #1 – Don't Get Caught Up In Emotion
The most effective way to start calming down an unhappy customer is to just let them vent. Remember, if a customer is angry it's not something to be taken personally. It's important that reps are able to distance themselves from a customer's anger so they can listen and acknowledge the complaint.
Tip #2 – Repeat the Problem and Apologize
Imagine yourself in a situation where you're the one who's angry. The most important thing is to make sure you're understood. If an agent repeats the facts and apologizes with empathy, an irate customer is sure to calm down. Do this in a way that is sincere so the customer knows you care.
Tip #3 – Offer them Something of Value
If you don't have the authority to do this yourself, take the initiative to ask a supervisor. It's important to offer something that allows the customer to get back to a happy place, but make sure it's valuable to them. If they plan to continue using your product or services, offer them a discount off their next bill or a complimentary accessory to their product. Even better, give them some choice! Offer them 3 complimentary gifts and let them choose what they like best.
We hope these tips and tricks help your call center overcome the challenge of irate customers! Check out our latest infographic on the "Anatomy of a Successful Contact Center Manager" for more insightful advice.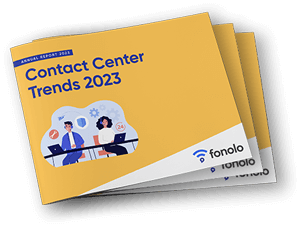 Trend Alert! Contact Center Industry Predictions for 2023
This report offers perspective on where the contact center industry stands today, plus our trend predictions for 2023.