A recent report discussing the 2017 customer service benchmark researched 500 companies across the globe.
It stated that 41% of companies did not respond to a customer service request, 90% of companies did not acknowledge an email had been received (an automated email confirming receipt of an inquiry) and, 99% of companies did not follow up with customers (Post service follow up to ensure customer satisfaction).
Yet, 56% of global consumers say they have higher expectations for customer service now than just one year ago, and that number jumps to 68% for 18 – 34 year-olds. So to sum up, customers have higher expectations and companies are not delivering.
When everyone's battling to win the same customers, leaders should be scrambling to think of new and improved ways of delivering service. Here are 6 approaches that will add value to the service you deliver.
1. Personalization Can Build Rapport
According to the 2016 Microsoft State of Global Customer Service Report, 72% of customers now expect agents to know their contact information, product details, and service history as soon as they engage with a brand. With technology and big data, companies can easily understand a customer's likes, dislikes, preferences, and buying patterns. Organizations that use this data properly can give their customers a better and more personalized experience, outshining the competition.
2. Focus on Keeping Agents Happy
According to Contact Center Pipeline agent attrition is a top challenge. It's easy to overlook just how tough this job is, CSRs often have to choose between conflicting priorities such as keeping handle times low, while creating a positive customer experience. Companies need to find more ways to increase agent engagement, improve coaching, and motivate call center employees. Remember, if agents aren't happy, customers won't be happy either.
3. Understanding Customer Effort Score
In its simplest terms, customer effort is known as the amount of effort a customer must use in order to do business with, or get support from an organization. In order to manage this aspect of the customer experience, it's best for companies to develop a program that measures effort, and identifies points of friction so those fail points can be improved. Simply put, processes and procedures that lead to greater customer effort must be streamlined.
4. Consider a Call-Back Solution for Your Call Center
Today's consumers expect choice. Rather than forcing customers to simply wait on hold, your support center should be offering a call-back during periods of long queue times. Chances are if your call center doesn't offer this feature, it's due to old call center infrastructure which doesn't allow the use of a modern call-back solution. What you might not realize is that, even though your call center is on a legacy platform, you can still utilize the benefits of today's call-back technology. Fonolo, for example, is compatible with all major call center infrastructure vendors (Avaya, Genesys, Cisco, etc.) as well as cloud-based call center offerings.
5. Consider Facebook for Business
As of the first quarter of 2017, Facebook had 1.94 billion monthly active users. Additionally, more than 2 billion messages are sent between people and businesses every month on Facebook Messenger. Facebook's head of Messaging, David Marcus, believes that commerce is conversational and that it's more natural for businesses to converse with customers rather than to broadcast to them. Of course, Facebook Messenger fits the bill. The question I pose is that if your customers are on Facebook, then why aren't you?
6. A Different, Yet Old Way to Say Thanks
It sounds simple, but there are ways to go beyond just a simple, "Thanks for contacting us today," message.  In fact, since technology has made the handwritten note somewhat of a lost art, taking this approach can leave an even larger impact.
California based tech company, Jawbone, gives us a great example to use. Jawbone created a revolutionary fitness tracking system and one of their customers must have reached out for support. Following this interaction, Jawbone sent a personal letter to the customer. Nicely done @Jawbone!
Dear every company that cares about its customer service: this is how you do it. Bravo, @Jawbone. pic.twitter.com/liC4w7SzHA

— Erin Fors (@forsie) May 31, 2013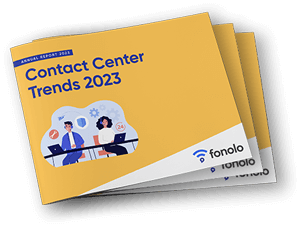 Trend Alert! Contact Center Industry Predictions for 2023
This report offers perspective on where the contact center industry stands today, plus our trend predictions for 2023.