Every third Thursday, at the beginning of every quarter, is known as #GetToKnowYourCustomersDay. In the name of trying to improve the customer experience, Fonolo takes this time to target specific industries and ask their customers how they feel about doing business with them. Last quarter – during tax season – we asked millennials to tell us about their experiences with the banking industry (Needless to say there is a shared opinion that financial communications and processes need to be modernized).
Now that we're in the middle of vacation season, it only makes sense that we take this opportunity to focus on the airline industry. Whether you love it or hate it, travelling is all part of the vacation experience, and if your trip involves flying, you're most likely going to face the woes of airports and airline hospitality (or lack thereof). Additionally, airlines are frequently present on our hold time offenders list, and we think it's about time we start a conversation about how airlines can make travelling a more pleasant experience for passengers.
In this two-part video series, you'll get to know four frequent fliers who provide first-hand experience into the problems with airlines.
Part 1: Millennials and Airline Communications
Part 2: Millennials and Airline Loyalty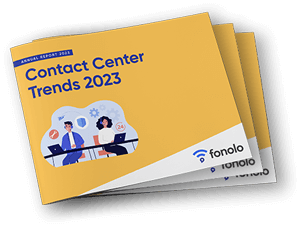 Trend Alert! Contact Center Industry Predictions for 2023
This report offers perspective on where the contact center industry stands today, plus our trend predictions for 2023.