We're now 6 months into the largest bankruptcy event in the history of the call center industry.
Avaya filed for Chapter 11 protection in January. The negotiations among the many stakeholders have happened behind closed doors so it's hard to assess where we are along the timeline.
Only one significant event has been visible to the public so far: In March, Avaya agreed to sell its networking business to Extreme Networks for $100 million. That move was received positively by analysts and commentators.
But the big question remains: Are we a month away from a resolution? A year? No one knows. As the bankruptcy continues, the patience of partners, analysts and customers wears down. Each day is also another opportunity for competitors to pick away at Avaya's customers.
Are We There Yet?
Soon after the bankruptcy was announced in January, I asked the question Will Avaya's Chapter 11 be like Aspect's or like Nortel's. Obviously, Avaya is hoping to be closer to Aspect's 5 month process, rather than Nortel's decade-long slog. Avaya's corporate treasurer gave a good explanation of why their bankruptcy is significantly different from Aspect's, in this interview with Network World:
The issue with us is that we have a very diverse set of debt holders. Many of them are passive. So, we had nowhere even close to having a majority of them involved in the discussion with us. We couldn't get a majority together.
Avaya Making Good Progress During the Bankruptcy
In February, Avaya put on a great conference in Vegas. When I reviewed the event (Avaya Did Good with their Spotlight Moment This Week) I said, "they made good use of a unique moment in their history…" and came away cautiously optimistic.
They've followed that up with some progress on the product front. They announced a BPO-focussed product earlier in the year and then, just last week, introduced Customer Engagement Cloud.
Customer Engagement Cloud takes their "next-generation" contact center, Oceana, and puts it in a hybrid architecture (a combination of cloud and on-premise deployment). By the way, we're big fans of the hybrid concept – we use it all the time for our banking and healthcare clients.
Karen Hardy, VP of Product Marketing, described it this way to No Jitter:
If a customer chooses to deploy in a virtualized infrastructure on premises, they can select a subscription for that environment. They can take it in a managed service. We have several deployments going into production leveraging Amazon Web Services, so where they get the benefit of taking a pure cloud infrastructure but the private application is made available. So, a lot more opportunity to be able to take advantage of the elasticity and on-demand infrastructure…

A Rare Sour Note
Avaya has done a good job of keeping its ecosystem partners "on message". When I ask distributors and resellers about the impact of the bankruptcy, I never get anything other than platitudes. The only thing close to a negative word came from the CEO of mega-sized distributor ScanSource. As reported in CRN:
"CEO Mike Baur said some of Avaya's large enterprise customers have delayed upgrade and expansion decisions due to the vendor's Chapter 11 bankruptcy filing… so [ScanSource] saw a decline in Avaya-related sales."
I think it's reasonable to guess other resellers are seeing a similar impact, even if they don't want to say anything publically. And remember that 80% of Avaya's revenue came through resellers.
But the World isn't Standing Still
Avaya is working hard to keep its momentum despite the shroud of Chapter 11. But its competitors aren't standing still either. In just 6 months since the bankruptcy, consider this short list of news items:
Amazon has jumped into the call center game with Connect. This is a chilling announcement given that many other cloud-based call centers use Amazon's AWS as their infrastructure. If you think that selling call center service is strangely peripheral to Amazon's core business, read Why Amazon is Eating the World, it's a terrific write-up by @zackkanter.
Talkdesk is making strong gains. They launched an impressive partner program with a true "app store", i.e. one-click install plus unified monthly-billing. We'll definitely be writing more about that. (Wink wink.)
Genesys continues to digest its acquisition of InIn, and announced a major initiative in AI called "Kate".
Five9 finished a major revamp of their platform, adopting the new approach of "microservices". See Five9 Preps for Digital Era.
Twilio is gaining ground as an alternative to "traditional" vendors. Banking giant ING recently switched from an Avaya call center to a system built internally using Twilio APIs. Start at the 9 minute mark in this video for more.
So, even if its bankruptcy reaches a positive and speedy conclusion, Avaya still faces a call center landscape that has more options for customers than ever before.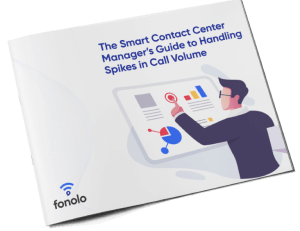 How to Manage Call Spikes in the Contact Center
Download this free guide to learn how to protect your contact center from call spikes.