As with any relationship, there are always ups and downs; good days and bad days.
Sometimes you do things that can be forgiven (we all make mistakes right?), and some people are more forgiving than others. But we all have a breaking point, and sometimes, like with human relationships, businesses can also take loyal customers for granted, making mistakes so bad that they lose them forever.
In fact, these incidents usually come as a surprise since 80% of defecting customers describe themselves as "satisfied" or "very satisfied" just before they leave! (We've all been there, pretending to be happy when we're afraid to tell someone when they are treating us poorly.)
It's important then for companies to be proactive about not making the mistakes that put customers over the edge, or they may never ever see them again, like ever.
Don't get blindsided by customer break-ups; know the 5 most popular reasons why customers stop doing business with you for good:
#5 Long Hold Times
A report released this month by Loyalty360 said that 70% of customers are still frustrated by long wait times and have trouble reaching a customer service agent. Even today customers rely on the telephone to resolve "mission critical" issues, which is why long hold times are such a major issue for customers looking for immediate support. If you want to lose customers, the best way to do it is keeping them on hold.
#4 Negative Experience on Digital Channels
In the same study by Loyalty360, 57% of consumers say they frequently have trouble finding answers on a company's website while 25% never even receive a response when they contact a company through social media. Digital channels are only growing in popularity, therefore it is integral that a company put effort into perfecting this experience by making information easy to access, and having an instant response if the answer can't be located.
#3 Having to Exert More Effort Than the Business
Customers are four times more likely to use a company less frequently, or stop doing business with the company altogether, when they perceive that they have to put more effort into resolving an issue than a company does. Customer Effort Score (CES) is a relatively new way to measure customer satisfaction, but is crucial to understanding true happiness and loyalty. Read Fonolo's latest whitepaper, The Contact Center Playbook for Improving Customer Satisfaction, to learn more about measuring CES.
#2 Having to Repeat Things Over Again
64% of consumers report being frustrated when asked to repeat their information to customer service representatives multiple times. This goes hand in hand with the problem of having to put in too much effort. When a customer is being passed around from agent-to-agent – having to guide each agent through their issue over and over again – inevitably they will feel ignored and unimportant; crucial elements to any long-term happy relationship.
#1 Lack of Empathy for Customers
The truth is, customers understand that mistakes happen. However, 70% of customers leave a company because of poor service, which is usually attributed to a customer service person, and 60% of all customers stop dealing with a company because of what they perceive as indifference on the part of the CSR. Therefore, almost every mistake CAN be fixed with enough care and empathy on the part of your contact center agents. The old saying, "the customer is always right" might not be true but in situations where a mistake IS made, it's best to go above and beyond to make good with loyal customers.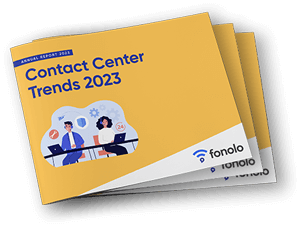 Trend Alert! Contact Center Industry Predictions for 2023
This report offers perspective on where the contact center industry stands today, plus our trend predictions for 2023.