In case you've been living on an island in Tahiti, with no communication to the outside world, you may not know how important mobile apps have become.
Mobile apps are software applications designed to run on smartphones, tablets and other mobile devices. They dominate the time spent on mobile devices by 74% compared to mobile time spent on the web. Additionally, 75% of US adults will use a smartphone in 2017, while Millennials become more willing to make purchases within apps, (nearly 50% of them are making five or more in-app purchases annually). Today, most consumers are multi-channel users, meaning they channel hop from desktop, mobile, and phone, throughout a transaction; this makes mobile support increasingly important.
A mobile application is essential for a multitude of reasons, namely to support customer service and enhance the experience. Importantly, mobile apps can put out fires that could otherwise cost you big time. Here are 4 ways your mobile app helps to prevent customer service disasters:
1. Keeps Customers Connected Throughout Space and Time
As we mentioned earlier, the modern consumer is a multi-channel user, and are more likely to switch channels at any given time to complete a transaction. This is especially true in the morning when mobile use surpasses all other channels and consumers are making purchase decisions on their way to work. By limiting accessibility to only online or over the phone, you are risking customers abandoning a purchase completely. Plus, if a customer needs to make a request outside of business hours, having 24-hour self-service via your mobile app can systematically prevent a common call center disaster known as "spikes in call volume".
2. Quick Access to Mobile Support
Today, the mobile phone also doubles as the home phone. When a customer needs help they are likely using their mobile phone for assistance, which makes your app a key resource to bridge your communication. There are solutions that provide businesses with the ability to chat with customers in-app without having to navigate outside the app. It also includes important in-app FAQS if customers prefer to resolve an issue on their own. These solutions ensure that the customer is only a click away from help, which improves the experience and lowers customer effort. The Customer Effort Score (CES) is a metric that is increasingly important to overall customer satisfaction, and if you want to keep CSat high and CES low, your mobile app should be equipped with customer support.
 3. Deployment of Mobile Call-Backs
Another fundamental way to keep customer effort down and satisfaction up is by implementing a call-back feature within your mobile app. Some customers need to reach a live phone agent as soon as possible, especially if they fail to resolve their issue through chat or FAQS. Therefore, it's important to provide an easy way to escalate to voice. Fonolo has a nifty little solution called "Mobile Rescue" which asks customers for their call-back number if they are looking for assistance over-the-phone. For more evidence about how mobile call-backs can help improve metrics and avoid catastrophes, download "The Contact Center Playbook for Improving CSat".
4. Added Value and Retention
Let's say a customer has a negative experience with your business, but you have no way to personally say you're "sorry". Your mobile app acts as a gateway for providing customers with gifts and rewards they may otherwise fail to receive. For example, if you place an order using the app SkipTheDishes, and it takes too long or cannot be completed, the Skip team can easily credit you with points or refund your order as a peace offering. This is extremely important in avoiding disasters and retaining loyal customers. Some interactions just don't go as planned, and your mobile app is a great way to make amends and keep customers happy.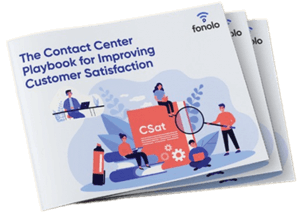 The Contact Center Playbook for Improving Customer Satisfaction
In this handy playbook, contact center leaders will learn the ins and outs of improving customer satisfaction.