Talkdesk rose quickly from humble origins to make big waves in the call center space. Their fast growth has made industry veterans rethink their assumptions.
For example, it was thought that the core capabilities of call centers (queuing and routing voice calls at high volume) were "tough" problems to solve.
That toughness was supposed to be a barrier against new entrants, but Talkdesk used tools like AWS and Twilio, combined with a large team of off-shore developers, and proved that assumption wrong.
Talkdesk continues to punch through barrier after barrier in catching up with the old guard.
All the major call center vendors have some form of partner program, and most have adapted those programs into some form of "marketplace" experience. A few months ago, Talkdesk joined that club too, but they're doing something different.
Having a Marketplace is "Table Stakes"
Talkdesk launched a marketplace for add-ons in May. (NoJitter covered the announcement here.) This was a logical step in Talkdesk's evolution, but they are taking a bolder approach to it, compared to others.
All other vendor marketplaces are effectively "showrooms". That is, they provide a nice presentation of partner offerings that can be sorted and filtered by type, with descriptions appearing in a standardized format. It gives the impression of an App-store-like experience, but that illusion ends as soon as you want to implement something.
Doing that actually involves contacting the partner and going through a traditional, stand-alone purchase and deployment. That's not to say there isn't value in these "showroom" style marketplaces – the discovery process is itself important – but they could be better.
TalkDesk's App Store is the "Real Deal"
What makes AppConnect different is that you can actually click and install the "apps" and get started right away. As they state themselves: "We didn't want to provide a window-shopping experience that most enterprise app 'stores' offer…"
To make good on that promise, Talkdesk requires all apps to offer
A "one-click" install process
A 30 day trial
Pay-as-you-go billing
Regarding installation, it's more than exactly one click, but the intention is clear – installation happens "on-demand", without the need for separate conversations with the partner. You can watch the install process here.
Regarding "pay-as-you-go" billing, the more relevant fact may be that the billing happens through Talkdesk, so the customer sees only one monthly bill. This is a big reduction in friction and should boost adoption.

The Challenge
Because participation in AppConnect requires conforming to all those constraints, many potential partners will be unable or unwilling to join. Talkdesk has explicitly opted for a quality-over-quantity approach. So it's not surprising that there are only 11 apps listed right now.
Compare that with:
Fonolo's Involvement
Fonolo first got involved with Talkdesk by sponsoring their OpenTalk event last spring. Today, we're happy to announce a formal partnership. You can read the press release here. We'll have news regarding AppConnect very shortly, as well as some other cooperative efforts with Talkdesk. Exciting times ahead!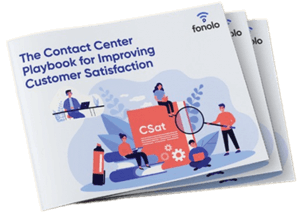 The Contact Center Playbook for Improving Customer Satisfaction
In this handy playbook, contact center leaders will learn the ins and outs of improving customer satisfaction.