One of our goals with the Fonolo blog is to help you stay current on the many aspects of the fast-moving contact center industry. To that end, we're always on the look-out for new industry research, studies, surveys and whitepapers.
The vast number of companies doing "content marketing" means there is a lot of material out there. Sadly, that's made it hard to find quality among all the fluff, so we've assembled 4 recent reports that we feel are worth your time. We'd like to express how grateful we are to the authors (and sponsors that back them) for the hard work that goes in to producing this content. They feature original research and cover topics such as consumer channel preference, the growth of chat, the ROI of social media for customer support, and much more.
How Consumers Use Messaging
Who wrote it: Twilio
Where to get it: http://ahoy.twilio.com/how_consumers_use_messaging_today
Methodology:
"Twilio with Vanson Bourne asked 6,000 people in seven countries how they used messaging to talk to businesses… talked to 2,000 users in United States, 1,000 users in the United Kingdom and Germany, and 500 users in India, Japan, Singapore and South Korea each… defined mobile messaging as text messages sent from phones using SMS natively or using apps such as iMessage, Android Hangouts, or using messaging apps such as Facebook Messenger, WhatsApp, LINE, SnapChat, Kakaotalk and others."
Key findings:
89% of consumers would like to use messaging to communicate with businesses.
48% of businesses are equipped to connect with customers through a message.
2/3rds of consumers around the world use phones to message each other and businesses.
Our favorite chart:

The State of Customer Service 2017
Who wrote it: The Incite Group
Where to get it: http://1.incite-group.com/LP=17657?extsource=chrisvoss
Methodology:
"[we]… surveyed over 100 customer service leaders. Survey respondents represented a swath of different industries, both B2C and B2B… Their roles extended to newer digital channels like social and messenger, as well as traditional channels like call center and email. Their regions of responsibility spanned the United States and Canada, the United Kingdom, EMEA, South and Central America, and Australasia. We wanted to understand how they're responding to the rise of social media as a customer-service channel, as well as how well their efforts in traditional channels are working."
Key findings:
Delivering an effortless customer experience was the prime topic for these executives.
Only 15% of executives were able to measure the ROI form social media support.
42% of customers expect a personal response to a customer-service query via social media within 60 minutes.
Our favorite chart:


Executive Report on Customer Experience
Who wrote it: Brian Cantor, Call Center Week (a division of IQPC)
Where to get it: https://www.callcenterweekfall.com/ccw-digital-executive-report-customer-experience
Methodology:
"Customer management thought leaders [often] provide advice from an internal business standpoint. … They ask business people about key customer experience challenges [and] customer engagement trends.
This approach is simply unacceptable in the so-called age of customer centricity. Assessments,
analyses and decisions need to be made through the eyes of the customer.…[this report] asked end-user consumers to identify their customer experience thoughts, habits and preferences. It then compared these findings with a survey of businesses to identify gaps in the two modes of thinking."
Key findings:
"Wait time before reaching a live agent" is the most frequent source of customer complaints.
Call centers are not obsolete: Live voice remains customers' preferred communication channel.
Bad experiences have a steep cost: 62% of customers will consider switching to a competitor.
The US Contact Center Decision-Makers' Guide
Who wrote it: Contact Babel
Where to get it: www.contactbabel.com/united-states.cfm
Methodology:
"[This report studies] the performance, operations, technology and HR aspects of US contact center operations. Taking a random sample of the industry, a detailed structured questionnaire was answered by 214 contact center managers and directors…  The result is the 10th edition of the largest and most comprehensive study of all aspects of the US contact center industry."
Key findings:
15% of respondents described themselves as omni-channel, 18% assessing themselves as multi-modal and 67% multi-channel.
Web chat showed strong growth rising from 3.2% in 2015 to 4.5% in 2016 to 5.3% in 2017.
The top reason queuing is disliked, "Not knowing how much longer you'll have to wait".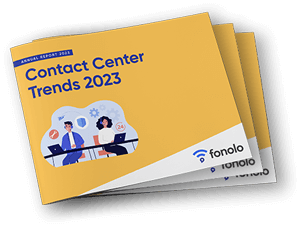 Trend Alert! Contact Center Industry Predictions for 2023
This report offers perspective on where the contact center industry stands today, plus our trend predictions for 2023.