Fonolo is thrilled to announce the launch of its new portal available to all customers today! The team has been working diligently on MANY enhancements that will maximize your productivity, and make your Fonolo experience even better. We even put together a nifty video to show off some of our most exciting changes.
The updated portal features:
Enhanced scheduled call-backs
Simplified configuration for international customers
Call-back alerts based on custom business rules
Plus so much more!
Fonolo's CTO, Mike Pultz explains,
Our portal has always been an effective way for call centers to manage customer call-backs. By expanding on existing features, and applying feedback from our customers, contact centers can now realize even more value from Fonolo call-backs.
Check out the video!
To learn more about these new features, or to set up a portal walk-through, please contact support@fonolo.com.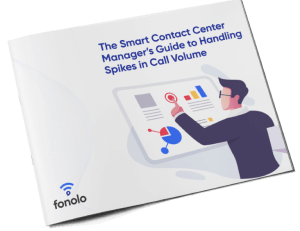 How to Manage Call Spikes in the Contact Center
Download this free guide to learn how to protect your contact center from call spikes.