Last month we shared 4 Call Center Reports Worth Your Time. Hope you've read them all because here comes the next batch!  A top mission of the Fonolo blog has always been to help you stay informed with the fast-moving contact center industry. As always, we're grateful to the authors (and sponsors that back them) for the hard work that goes into producing this content.
The last batch of reports was broad-based in their coverage. The reports on today's list are focused on more specific topics within the realm of the call center such as agent management, journey mapping and self-service.
Executive Report on Performance & Agents

Who wrote it: Call Center Week
Where to get it: CustomerContactWeek.com
CCW Digital surveyed customer experience, contact center, marketing, customer care, IT, and operations professionals in February and March 2017. 74% of those surveyed directly influence their organizations' customer experience budgets, while 37% either sit-in or directly report to the C-suite. 50% of respondent organizations generate over $1 billion in annual revenue, and 64% have multiple contact center sites.
Key findings:
Live chat is the #1 channel investment area.
85% of organizations evaluate agents based on accuracy in interactions. Other key measures include demeanor (71%) and customer feedback (65%).
78% plan to prioritize web self-service investments over the next two years; 72% say the same for mobile and IVR. Web and IVR will be particularly big focuses in the next six months.

Our favorite chart:

Inner Circle Guide to Self-Service

Who wrote it: ContactBabel
Where to get it: ContactBabel.com
Methodology: This 113-page report pulls data from multiple recent ContactBabel surveys, including the Contact Center Decision Maker's Guide, which was included in last month's list of Reports Worth Your Time.
Key findings:
Webchat showed strong growth in 2015, rising to 3.2%, and 2016's figure of 4.5% is a real jump again.
40% of respondents offer mobile functionality for customer service, with a further 29% having definite plans to doing so.
19% of voice self-service is handled through automated speech recognition, rather than DTMF IVR, similar to last year's figure of 17%.

Our favorite chart:
Cost per Interaction

Vendor Landscape: Customer Journey Analytics Providers

Who wrote it: Forrester
Where to get it: Pointillist.com
Methodology: It's rare to have a full vendor landscape survey available at no cost, so of course we were going to include this one in our list! 44 companies, including Adobe, Applied Predictive Technologies, Clorox, Manthan, and Touchpoint Dashboard were surveyed by Forrester. Forrester also conducted in-depth interviews with three early adopters of journey analytics.
Key findings:
Vendors from different technology markets are rushing to develop journey analytics capabilities.
Journey analytics requires a high level of comfort with mining customer-level data, knowledge of advanced analytics, and a keen understanding of the application of insights.
Our favorite chart:
We're not going to have a "Favorite chart" for this one, because there is only one chart and it is a huge multi-page grid comparing all the vendors.
Getting to Iconic
Who wrote it: MIT Technology Review
Where to get it: Genesys.com
Methodology:
This was a "global survey of over 550 senior executives conducted by MIT Technology Review to examine the pressures that shape their customer experience processes and the tools and strategies they employ to mitigate those challenges and continuously improve customer engagement."
Key findings:
Among high-performing firms, 87% report leading-edge adoption of customer analytics, and 77% have deployed similarly advanced technologies or "voice of the customer" survey analytics.
Maintaining optimal customer experience throughout the ecosystem of partners, distributors, and affiliates remains a challenge for all respondents. Moreover, there is still a great deal of resistance to sharing customer insights across one's ecosystem.

Our favorite chart: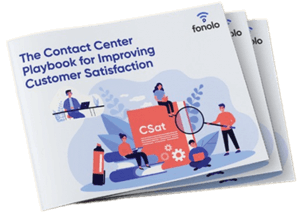 The Contact Center Playbook for Improving Customer Satisfaction
In this handy playbook, contact center leaders will learn the ins and outs of improving customer satisfaction.