Ok, let's face it; the age of robots is now. As businesses automate their sales and support teams, chatbots and other AI programs are becoming increasingly popular. So, if you've been living under a ROCK and need a refresher, please allow me to explain chatbots in layman's terms. A chatbot is a computer program that automates certain tasks by chatting with customers through a conversational interface, like Facebook. Chatbots give brands from any industry the ability to engage with customers on a personal level. It's actually super cool.
With apps struggling to get downloads and bots being cheaper and quicker to make, many executives are saying that bots are poised to take over apps! It seems that some of the big brands are catching on, and as consumers get familiar with communicating this way they will start to expect it from more companies.
To give you some examples, here are 5 known brands using chatbots through Facebook's messaging platform.
1. Spotify
Spotify is a digital music service that gives you access to millions of songs. Their bot helps to explain how to create playlists directly from Facebook. The conversation gets deeper as the bot asks for more specifics on your music preferences, it then suggests playlist recommendations based on your mood, what your doing, or any genre of music you want.
2. Whole Foods
Whole Foods Market is an American supermarket chain exclusively featuring foods without artificial preservatives, colors, and flavors. They cater to people looking to find healthy recipes and ingredients. They allow you to narrow down your search type by dish and even let you select dietary needs.
3. Fandango
Fandango is an American corporation that sells movie tickets via the Internet. Their bot lets you buy movie tickets, find local theatres and watch trailers. All you have to do is enter your city or zip code and the chatbot will show you what's playing nearby, when, and send you to a page where you can buy tickets.
4. Aerie
Aerie is a lingerie retailer and intimate apparel sub-brand owned by American Eagle Outfitters. Their bot asks if you've shopped with them before, then they ask if you want to receive special offers and explain how you can unsubscribe. Their main purpose is finding ways to inspire your shopping needs.
Aerie Customer Service Bot
If you type "HELP" they offer options for connecting with an agent. The chat and email functions work well, but the phone option is really pointless. It opens a blank new window with the phone number in the URL. This is where companies should consider a built-in call-back feature. Read here for more.
5. 1-800 Flowers
1-800-Flowers.com, Inc. is a floral and gourmet foods gift retailer and distribution company in the United States. They allow you to choose from a collection of floral arrangements from same day delivery, to best sellers. When you select an item they ask for the delivery address and recipients information.
Chatbots for Contact Centers
More and more contact centers will start adopting this approach for customer service. Does that mean the rising use of bots will replace the need for contact center agents? No, of course not, but staying up-to-date with how your customers want to interact is critical to the success of your brand. I suggest getting familiar with chatbots and trying  it out for your own contact center.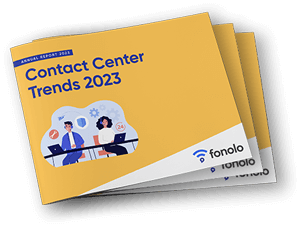 Trend Alert! Contact Center Industry Predictions for 2023
This report offers perspective on where the contact center industry stands today, plus our trend predictions for 2023.