Today's demanding consumers have high expectations when it comes to the call center experience. A surefire way to fall out of favor with a customer is to leave them on hold for more than a few minutes. (For proof, head over to onholdwith.com and check out the feed of complaint-tweets.)
The solution to hold-time is to offer a call-back as an alternative. Virtual queuing means that each caller's place in line is held and the caller is free to enjoy their day while waiting. Call-backs can also be offered on a scheduled basis, where callers can choose a time slot in the future. (We covered the surprising power of scheduled call-backs in this post.)
At Fonolo, we've been preaching about the benefits of call-backs for many years, and survey data shows that the industry is responding as the percentage of call centers offering this option continues to grow. Our goal is to see every call center offer call-backs, so that no one has to wait on hold ever again.
Call-Backs Becoming More Common
The annual "Contact Center Decision Maker's Guide" from ContactBabel is one of the best sources of data about the industry. The data comes from surveying around 200 contact center managers, and delivers over 300 pages on almost every aspect of the call center. One of the great advantages of the report is that many of the questions are consistent, year-over-year, so you can see long-term trends evolving.
Since 2011, the report has included questions about virtual queuing / call-backs. The fraction of call centers offering a "Queue call-back option" took a jump forward between 2015 and 2016, as you can see in this chart we created by comparing the results over the years.

What they mean by "Queue call-back option" is that callers hear an offer message when they call in, usually something like "Press 1 to get a call-back instead of waiting on hold", as illustrated below. At Fonolo, we call that "In-Call Rescue" and you can learn more about it here.

Web-Based Call-Backs Are Also Growing
ContactBabel also asked about "web-based call-backs". This is when the company's website has a form or button that allows the visitor to request a call-back from a live agent. (Sometimes called "click-to-call".) This has actually become less common over the years.

A note of caution: Sometimes companies offer a call-back button, but the customer is still put on hold after connecting. In other words: "call-back" usually implies "not waiting on hold", but not in the case where call centers rely on call-back algorithms to determine when the agent will be available and thus forcing the customer to wait on hold again. We're not sure if ContactBabel made that distinction when this question was asked, so the data might be skewed.
On a related note: The fact that click-to-call buttons often led to calls where the customer was still on hold, may be a reason that their popularity is low. Callers had a bad experience and then avoided using those buttons, and companies saw a low engagement rate and then stopped prioritizing the feature.
Time to Act
Now that you've seen the data, one thing should be clear: If you don't add call-backs to your call center, your company is falling behind. But even without that pressure, this is an easy decision to make because call-backs are truly a win-win proposition: Callers have a more pleasant experience and the call center gets a more efficient operation.
Learn more in these recent posts:
If you're exploring this option today, sign-up for a demo or watch our short demo video to see how we can help!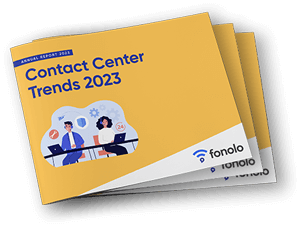 Trend Alert! Contact Center Industry Predictions for 2023
This report offers perspective on where the contact center industry stands today, plus our trend predictions for 2023.