Your call center works hard year-round to make sure metrics are being met and customers are happy. Oftentimes, when you're busy dealing with everyday tasks, it's easy to forget the importance of a fun working culture.
Studies have shown that call center agents quit most often because of their work environments rather than their compensation. Companies need to find more ways to increase agent engagement and motivate employees. Luckily, a fantastic opportunity is just a few days away: Halloween.
Check out how you can create a hauntingly fun Halloween with these five party ideas!
1. Plan a Ghoulish Halloween Pot Luck
Here at Fonolo, we're always looking for an occasion to feast. Coordinate a Halloween luncheon with your team and assign a type of dish to each person. You never know what creative plates your co-workers will present! If you're stuck on ideas, here are some spooky dish examples:
Spider Devilled Eggs
Pumpkin Guacamole
Jalapeno Mummies
2. Coordinate a Mysterious Costume Contest
A costume contest is the perfect way to inspire employees to get into the spirit of Halloween. Make sure to email everyone in advance with the contest rules and how winners will be picked. Also, include any additional office policie's like types of costumes that are off limits. Award prizes for the best, most original, and the scariest costume. You can even give a prize to the person whose costume best embodies the company spirit.
3. Wicked Trick or Treat!
Whether you're into sour gummy snacks or classic chocolate bars, this party idea lets your team stock up on their favourite treats! Encourage your team to set out candy on their desks so that co-workers can stop by to trick-or-treat and mingle. This is an easy and fun way to relive those childhood experiences of trick-or-treating door to door, and it requires only minimal investment from each employee.
4. Creepy Pumpkin Carving Competition
This is a great way to get involved in a friendly competition without spending money on costumes and makeup. Determine how many people want to be involved in the competition. Then supply the pumpkins (of equal size) and any additional decorations. Each pumpkin gets the same sample of items to decorate with. Make sure you also set up a deseeding station as that can get messy. Then pick the winner and display all the finished pumpkins in a designated area of the office – a great way to add to the Halloween office decorations.
5. Frightening Fun Work Social
If Halloween at the office is just too "tricky" to pull off, simply plan a Halloween outing. This is the party idea we decided to go with this year. Rather than staying at the office, we took the entire team out to a haunted house. Our team was immersed into a theatrical interpretation of all of the classic horror figures in a 2 km self-guided walking tour! It's a great way to get everyone out of their day-to-day environment, and it's fabulous for team building.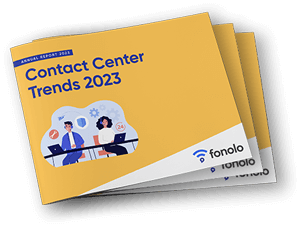 Trend Alert! Contact Center Industry Predictions for 2023
This report offers perspective on where the contact center industry stands today, plus our trend predictions for 2023.