If you're reading this, there's a good chance you've been placed on hold at least once in your lifetime. In fact, most customers can't remember having a recent positive experience, and 35% of them say it was directly related to poor response times. This is a serious problem since timeliness is the most important thing a company can do to provide good service.
When organizations make customers wait for assistance, it can force them to seriously question why they still do business with you at all. Take a quick look at onholdwith.com for some shocking insight on hold time offenders, or check out our annual list of the Top 10 Worst Companies to Call.
Okay, okay, we've spelled out why hold times are so terrible, but unfortunately, they are still a regular occurrence. Let's see how we can try and make it a little more bearable.

Here are 6 things you can do to make it through those long, lonely, wait times:
1. Tweet About It
47% of consumers aged 18-34 have used social media to complain about a brand's customer service and 52% have used it to ask a customer service question. Whether you're sick and tired of waiting on hold, or hope to get your question answered faster, social media sends a clear message to the brand to step up their game, and hopefully resolve your issue in a timelier fashion. Don't forget to use the hashtag #onholdwith when tweeting!
2. Troubleshoot Your Problem
Parature reported that 70% of customers expect a company website to include a self-service application. Not all companies have done so, but if you haven't explored the self-service option for the business you're calling, we recommend doing so. If you're able to find a solution through self-service, then the company is doing its part to provide a good experience and accommodate customers when call volume gets hairy.
3. Request a Call-Back
If the previous two options fail you, the best alternative to waiting on hold is to put the phone down, go on with your day, and have an agent call you back. Not all businesses have a call-back option, which is a problem in itself, but for those that do, it's definitely better than keeping your head stuck to the phone all day. Next time you hear "press 1 to get a call-back" take it, you're doing yourself and the call center a favour.

If you're a contact center professional who wants to eliminate the endless hold time that plagues your customers, join us for our next live panel discussion, "How to Deliver Great Customer Service in a Crisis", on Thursday, November 30th at 2:00 PM ET / 11:00 AM PT for the live Q&A.
Here's a sneak peek at the slides!
If all of the above fails, and you're still tied to the phone, you'll have to take some tips from this epic Friends episode:
4. Play a Game
Solitaire, crosswords, and Sudoku are a few games that can be played solo to keep you occupied while you wait. The mind-numbing elevator music, promotional message, or repetitive "Your call is important to us," loop, playing over and over can send anyone into a rage. Take this time to relax, exercise your brain, and stay optimistic about getting your problem solved.
5. Reorganize Your Furniture
Maybe you've been meaning to move that armoire for months and haven't got around to it. Heck, throw your phone on speaker and by all means, go ahead and feng shui your entire living room. It'll definitely take your mind off waiting, and in the end, you'll have something to show for all that "wasted" time.
6. Meal Prep
You might get a little famished after holding for a while, so why not give your inner sandwich artist a chance to create something spectacular? If your wait time is extra-long, put those cold cuts to good use and meal prep for your week. It's way better than binge eating whatever stale cereal you have laying around.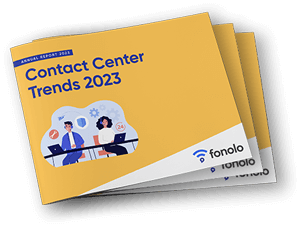 Trend Alert! Contact Center Industry Predictions for 2023
This report offers perspective on where the contact center industry stands today, plus our trend predictions for 2023.