Picture this: By dinner time tomorrow you'll be sitting around the table enjoying a festive Thanksgiving meal and preparing yourself for the lethargic feeling you'll have after consuming an unimaginable amount of food (nom-nom).
You'll sit back on your favourite spot on the sofa, put your feet up and have thoughts of gratitude. How thankful you are to be surrounded by great family, caring friends, and all the gifts of life we're lucky to have. Now let's take that scenario and think about how to show the same amount of gratitude to call center agents.
Even though employee appreciation may seem like common practice, most contact center agents feel unappreciated and disengaged. Managers may think they're showing appreciation, but more often than not, those thanks are not heard.
With Black Friday around the corner and the holiday season quickly creeping in, the call center is sure to get inundated with calls and requests. If you're trying to bridge the gap this Thanksgiving, you can start with these simple tips to increase agent engagement.
1. Give Agents a Voice
According to Gartner, voice-of-the-employee programs provide a comprehensive way to collect data on employee views, giving managers actionable and timely insights.
Speaking with individual agents on a regular basis gives agents the opportunity to have an open conversation about how they're feeling. This two-way dialog ultimately gives your agents a voice, making them feel valued and appreciated.
2. Provide Flexibility
Studies show that organizations that offer workplace flexibility have less absenteeism and turnover, and higher levels of productivity. If your organizations allows it, a little bit of flexibility can lead to great things.
Give agents flexibility in choosing their schedule, lunch hour and breaks. They'll appreciate feeling accommodated and will ultimately be more engaged.
3. Reward Agents
There are many ways to incent and reward employees. To encourage teamwork, consider compensation based on group-wide performance. This emphasizes the importance of the team, leading to an increase in agent satisfaction.
Simply invest the time and effort to develop a strategy that fits your particular environment, and your employees will thank you for it.
For agents to deliver their best, they need to feel engaged and dedicated to your organization. In the season of giving thanks, let's send some love to contact center agents.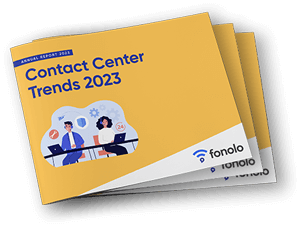 Trend Alert! Contact Center Industry Predictions for 2023
This report offers perspective on where the contact center industry stands today, plus our trend predictions for 2023.