The 2017 edition of the Magic Quadrant report for cloud-based contact centers was released by Gartner last week. That's a good reason to revisit a long running theme on the Fonolo blog: the cloudification of the call center.
Compared to other enterprise software, the transition to cloud has been a difficult road for the call center. There were some good reasons for this: the lack of sufficient or reliable bandwidth for voice, the real-time demands of call handling, the mission-critical nature of many call centers. But there was also some foot-dragging by industry incumbents who had a comfortable market position and a stream of maintenance revenue to protect.
Since none of that seems to be a barrier anymore, it certainly feels like the on-premise call center is soon to be extinct.
Gartner's Report
You can see the famous "magic quadrant" below. As always, it plots "Ability to Execute" versus "Completeness of Vision". Those are obviously subjective measures, but Gartner tries to keep it as methodical as possible. [I've always thought it was a very clever set-up because none of the quadrants ends up with a negative label. Thus Gartner can move companies around the grid without worrying about deeply offending a current (or future) client.]
It's very impressive to see Talkdesk appear as a "Visionary". They are the youngest company to ever be included in a quadrant. We're big fans (and partners) of Talkdesk and I especially enjoyed speaking at their recent OpenTalk conference. (You can read a summary of the panel I was on here: Bringing Contact Centers into the Modern Age).
The other ten vendors included in the report are 8×8, Evolve IP, Five9, Nice inContact, Serenova, TeleTech, West, Aspect, BroadSoft and Genesys.
Notably absent is Avaya, but it appears indirectly since its technology is used to power companies like Teletech and West. The fact that Avaya doesn't directly offer a cloud call center (at least in Gartner's eyes) is one of the big criticisms against it and one of the first things they're expected to fix post bankruptcy.
Also missing this year is Interactive Intelligence, but that's because of their acquisition by Genesys. (A deal largely motivated by the lack of CCaaS in the Genesys portfolio.)
Industry Voices
Industry analysts have mostly converged on a very bullish opinion regarding cloud-based call centers. Here are three recent quotes:
Sandra Gustavsen lists the many advantages:
There are obvious budgetary advantages to selecting a cloud solution such as reduced capital expenses, fewer IT personnel and predictable per-user monthly fees, to name a few. But, there are also strategic advantages in terms of scale, consistency across a network and the ease of adding future innovations that are appealing particularly to organizations with multiple, geographically-dispersed offices.
(Link)
Zeus Kerravala says cost is no longer a factor:
At one time you could have reasonably argued the merits of on premises versus cloud, but in most cases today questioning whether cloud services are superior to on-premises deployments is hard. From a cost perspective, the cloud may or may not be cheaper, depending on how long the company plans to keep the equipment — but the argument of 'to cloud or not to cloud' isn't about cost.
(Link)
Donna Fluss expects hybrid solutions to be around as an interim measure for a long time:
It's no longer a question of whether or not … when it will happen. [But] that doesn't mean that a company needs or wants to move all of their contact center systems and applications to the cloud immediately … It's going to be a hybrid world for contact centers for many years to come.
(Link)
Looking forward
It's a safe bet that cloud deployments will continue to grow in number and size throughout the industry. One day, an on-premise call center may seem as quaint as a rotary-dial telephone.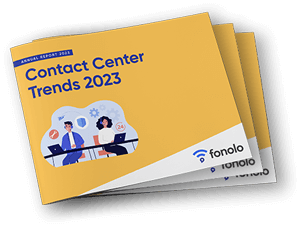 Trend Alert! Contact Center Industry Predictions for 2023
This report offers perspective on where the contact center industry stands today, plus our trend predictions for 2023.