Last week, Fonolo hosted an insightful live discussion on how to handle customer service in a crisis. This expert panel discussed what brands can do to ensure that customer service is not compromised during times of stress in the contact center. They touched on social media for crisis management, reducing customer frustration, and so much more! To save you some time, we've extracted video snippets showcasing highlights from the discussion.
First, let's take a quick look at the panel of speakers: Nate Brown from UL EHS Sustainability, Jim Rembach from Beyond Morale, Shep Hyken from Shepard Presentations, Rainer Uphoff from Avionline, Omer Minkara from Aberdeen Group, and Shai Berger from Fonolo.
How Can Customer Service Teams Better Utilize Social Media to Address Urgent Matters?
Frustrated customers hope to get assistance through social media as quickly as possible. However, a whopping 70% of customer service complaints made on Twitter go completely unanswered! This is not limited to Twitter either, 72% of Facebook interactions are also never addressed. While brands continue to leave complaints unanswered, or are slow to respond, a recent Twitter poll revealed that customers would be willing to pay more for a quicker response! This shows just how valuable timely responses are.
So, how can customer service teams better use social media to address urgent matters? Listen to what the panel has to say.
How Can Agents Deescalate a Situation to Limit the Number of Negative Customer Interactions?
More often than not, customers will pick up the phone when they are pressed for time or need answers right away. In fact, 37% of customers still prefer phone conversations with a live agent over any other channel. People choose the voice channel if they want to get a problem solved quickly, if they want to communicate with a real person, or if they believe it's the best way to receive accurate information. However, hold times continue to be a leading point of frustration for customers.
How can agents quickly deescalate customer rage to limit negative interactions and maintain customer loyalty? Watch this segment to hear what the panel thinks.
How Can Call Centers Prepare for Unexpected Volume Spikes?
There is no call center standard for occupancy rates, but many try to keep this metric between 70% and 80% to maintain a healthy balance. However, what happens when catastrophe strikes and your call center experiences higher than normal call volume, coupled with increased handle time?
It's impossible to plan for unexpected events, so the contact center must adapt quickly, or run the risk of total chaos. How can call centers effectively prepare for unexpected spikes in call volume? Let's see what the panel has to say.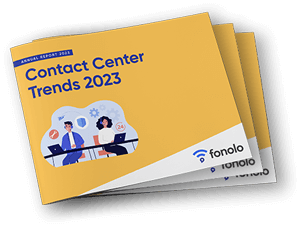 Trend Alert! Contact Center Industry Predictions for 2023
This report offers perspective on where the contact center industry stands today, plus our trend predictions for 2023.