Looking for 2019's Top 10 Worst Companies to call? You can find it here.
At the end of every year, we analyze data collected by onholdwith.com to expose the worst hold time offenders for the year, and today, we're ready to reveal the results compiled from 2017. The list is determined by the number of tweets, with the phrase "on hold with", directed to a brand's account.
Last year, we reported that Apple was the worst company to call, which captured the attention of consumer reporters across the nation (Read Stuck on Hold? The Worst Offenders Include Apple, Amazon, Airlines and 7 on Your Side: Apple, Verizon top 'on hold' complaints list). This year, Apple has been dethroned (although the company still remains on the worst offenders list).
So, who was the worst company to call in 2017? Well, according to the 800,000 tweets analyzed, the company that customers complained about the most over social media in 2017 was, *drumroll please*….Delta Airlines! See the complete list of offending companies in the slides below:
As you can tell, airline and telecom companies dominate this year's list – although Apple and UPS also make an appearance for the retail and shipping industries. According to the 2017 American Customer Satisfaction Index (ACSI), airlines remain in the bottom one-third of industries for customer experience. Specifically, airline call center satisfaction is one of the lowest ranked in the industry.
The ACSI explains that this is a lost opportunity for airlines, "Passengers who complain report much lower customer loyalty compared to the industry average; however, if complaints are handled perfectly, their loyalty improves tremendously." The ACSI also reports that call center satisfaction is the lowest ranked customer experience benchmark across the telecommunications industry.
Are you surprised by this year's results? Did your company make the offenders list? If so, see how Fonolo's call-back solutions can help, and if not, head on over to onholdwith.com and search your company's name, you might be surprised by what you find.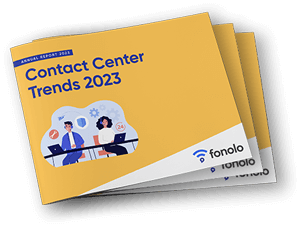 Trend Alert! Contact Center Industry Predictions for 2023
This report offers perspective on where the contact center industry stands today, plus our trend predictions for 2023.