Every year we read about what promises to be the hottest contact center trends. This list can, all too often, be endless. As important as it is to try new things, especially in an industry that relies so heavily on the customer experience, it's just as important to prioritize those strategies. The call center landscape is more complex than ever, and wasting time on trends that don't benefit you will only lead to failure.
What Can We Expect?
Consider trends that have been building momentum for some time, in order to get a good idea of what the year will bring. This is the time for perfecting processes and technologies that are already hard at work. Whether it's discovering them for the first time, or tweaking your existing infrastructure to better accommodate customer needs, there's just no room for delay.
Learn the top 3 contact center trends that you should act on this year by joining Fonolo on Thursday, January 25th at 2:00 PM ET for a live webinar.
We talk about:
The End of On-Premise
Phone Calls Are Essential
ChatBots Step Up to the Plate
Plus So Much More!
Who should watch:
VPs & Directors of Customer Service
VPs & Directors of Contact Centers
VPs & Directors of Web/Social Media
VPs & Directors of Customer Experience
Speakers:
Shai Berger, Co-Founder and CEO, Fonolo
As a leader, innovator, and thought leader, Shai Berger is on a clear mission to educate the call center industry on how to improve the customer experience.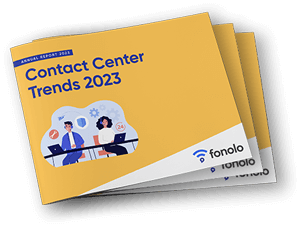 Trend Alert! Contact Center Industry Predictions for 2023
This report offers perspective on where the contact center industry stands today, plus our trend predictions for 2023.