The weight social media has on brand affinity and customer satisfaction is constantly growing. Today 84% of consumers expect companies to respond within 24 hours after posting on social media, while 72% of Twitter complaints expect a response within an hour. But what does this mean for the future of customer service? Well, it's been said that social customer care is actually the new business marketing. We are in an age where customer service has the potential to go viral, which means there is a lot more at stake for brands. Therefore, businesses must remain on the pulse of new innovations to ensure consistency and quality.
Bill Quiseng, an award-winning customer service writer, explains that social media monitoring is no longer a passive customer service task:
 Social platforms will need to be monitored to respond promptly to concerns and complaints that may not even be directed to them but may be simply a customer venting.
Therefore, social media monitoring solutions, such as Sparkcentral and Salesforce's Social Studio, are powerful tools necessary to stay afloat. However, monitoring customers and responding to them live is only tackling half the problem. Since nearly 70% of social media complaints go unanswered, it's clear that human agents need a little support too. Enter: messaging.
Conversational commerce has been a hot button topic in the customer service space for some time now. Last year, it entered into our online world quietly, and without much notice. However, the chatbot explosion is predicted to make a significant impact on social customer care in the coming year. The ability to quickly address customer issues, without adding volume and stress to the contact center is not only cost-effective, but just plain smart business.
Traditionally, we've viewed Twitter as the ultimate source for getting a brand's attention. However, when Facebook opened its API to chatbots, and separated the messaging application, we knew they had something up their sleeves. Messaging—which includes both the private messaging capabilities of the major social networks, as well as standalone platforms like WhatsApp—is quickly becoming the default way that everyone communicates. Activate predicts that by 2018 at least 3.6 billion people will have at least one messaging app on their smartphone, catching up with the total number of internet users, and eclipsing pure social media users.
Smart businesses will recognize that messaging is a much safer, more robust option for brands to communicate with customers. Not only does it allow for chatbots to aid customers with simple requests, but it also decreases the number of complaints being publicized on a brand account. According to Conversocial's "Definitive Guide to Social Digital Customer Service," messaging is beneficial for social customer care because it's:
Real-time (in many you can even see when the other person is typing)
Asynchronous (you can go away and continue the conversation later)
A persistent identity (and easy to link to a customer record)
Connected to smartphone notifications
Moving forward, messaging platforms like Facebook and WhatsApp are truly powerful channels for supporting social customer care.
So, how can businesses effectively master conversational commerce for social customer service? Ideally, deploying AI and chatbot technology in conjunction with human-powered customer service is the most ambitious, yet prosperous way to engage in the future of social customer care.
Don't tell us you haven't been warned!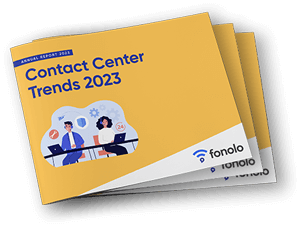 Trend Alert! Contact Center Industry Predictions for 2023
This report offers perspective on where the contact center industry stands today, plus our trend predictions for 2023.