The call center experience is under great scrutiny from today's consumers. There are many ways to fall short of their expectations. One surefire way of doing so is to put callers on hold. Tolerance for long wait times has been getting lower and lower. If the wait is longer than a few minutes, callers will complain to your agents (leading to longer handle times) and they will vent on social media (see onholdwith.com). Not good.
On the other hand, call center managers have to be cost-conscious in their approach to staffing. Hold times are often a simple consequence of a limited budget for agents. Luckily, there is a way to lessen the impact of hold times, without hiring agents: Offer your callers a call-back instead.
You can add call-back functionality to your call center through an independent vendor (like Fonolo) or through your existing call center platform if it is available. Let's look at the pros and cons of both options.
Potential Downsides
The obvious upsides to using the built-in call-back function are that there's no extra cost and set-up should be quick. However, there are some downsides to consider:
1. If you have a multi-site or multi-platform scenario, you will need to configure call-backs on each system separately. If some of the sites don't have the same software setup, the experience might be inconsistent for your customers.
2. If you send some of your calls to a BPO/outsourced call center, the call-back strategy won't extend to those calls.
3. Advanced features like scheduled call-backs, comprehensive reporting or web/mobile UI's are likely lacking from the built-in free version.
For these reasons and others, it's worth considering the call-back solution from a 3rd party. For advice on what to look for when adding call-backs see "Make Call-Backs a Priority" where you'll find 6 key questions to ask your vendor before deciding.
4 Reasons to Add Call-Backs
Let's review what makes call-backs such a great addition to your call center:
1) Improve Customer Satisfaction
However you measure client happiness – NPS, repeat visits, repeat purchases – you can expect to see improvement when you replace hold-time with a call-back.
2) Reduce Abandon Rates
When hold times are long, many callers will simply hang-up. Abandonment leads to higher repeat calling (which can strain the call center system) and, of course, frustrate customers. See this success story.
3) Reduce Telco Cost
When a call is on hold, there's a phone line being kept open, with per-minute telco costs accumulating. If you turn that call into a call-back, the line doesn't have to be active until the agent is available. See this success story.
4) Smooth Out Volume Spikes
Sometimes call volume spikes in a predictable pattern, based on time-of-day or day-of-week. Sometimes spikes are from unforeseen events: the network is down, a product got recalled, etc. Call-backs will help you cope with these spikes in call volume by deferring calls till a time when there is more agent capacity. See this success story.
If you're interested in how all these factors can combine together to yield cost savings for your call center, check out our eBook, The ROI of Call-Backs for Your Call Center.
How We do Call-Backs at Fonolo
Adding call-backs to your call center used to require installing hardware or software offered by the vendor of the call-center system. Fonolo's breakthrough was to make it easy to add call-back functionality to any existing call center by pursuing a cloud-based platform-agnostic approach.
Don't be fooled by the simplicity, though. There's a lot of work "under the hood" required to make that possible. Some of that work is spelled out in our many patents on the topic.
Conclusion
Replacing hold-time with a call-back is truly a "win-win": Your callers get a more pleasant experience and the call center gets a more efficient operation. Sign up for a live demonstration or watch our short demo video to learn more.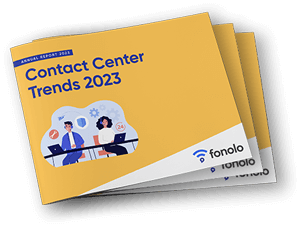 Trend Alert! Contact Center Industry Predictions for 2023
This report offers perspective on where the contact center industry stands today, plus our trend predictions for 2023.