Last week was a big one for Avaya as they held their first customer conference since emerging from bankruptcy at the end of last year. The newly public company (NYSE:AVYA) was eager to show strength and forward momentum. By all indications, they stepped up to the plate and convinced analysts and partners that they are on track for success.
On day one, they blasted out of the gate with a major announcement: the acquisition of Spoken. This deal gives them a boost in their effort towards becoming a more cloud-oriented business.
The pivot-to-cloud was a pervasive theme throughout the show. For example, the company has a new "Cloud Business Unit" helmed by Mercer Rowe, who joined the company just a few weeks ago.  But there are always two sides to a "pivot" – if you're putting more weight on one foot, the other foot is getting less weight. What is Avaya willing to leave behind in its effort to accelerate towards the cloud? I think I know…
The Spoken Acquisition
Spoken built a cloud version of Avaya's Aura Elite call center technology, so the short term motive here is immediately obvious: to quash the nagging criticism that Avaya has no cloud strategy. It's not quite a fair criticism, since there are actually a number of cloud-focused efforts going on at the company, but it has been an easy accusation for competitors and analysts to make. Now that the company is public, there will be many more analysts opining, so this was a problem that needed fixing. The Spoken acquisition is a bold and definitive answer.
When I heard about this deal, the historic parallel that jumped out at me was the Genesys-EchoPass deal of 2013. In a similar fashion, EchoPass had taken the Genesys on-premise system and created a cloud version. The full analysis from Opus is here.
I shared this thought on Twitter and Spoken CEO Mo Afshar didn't seem to like it:
Not really. Echo pass was managed services provider. Spoken is a multi-tenanted AI-enabled Cloud https://t.co/l2ZHbm6rHm

— Mohamad Afshar (@mohamadafshar) February 1, 2018
I can't say if Echopass was truly multi-tenant or not, so I will assume he's right on that point. I'm not sure what "AI-enabled cloud" means.
You can see the seeds of this deal in the partnership announced between Avaya and Spoken last year. What we didn't know was that Avaya actually helped Spoken by "co-engineering"' its cloudification effort. This was not a trivial job. Remember that Aura is not a cloud product at all. Creating a true multi-tenant system, with a shared data layer (as they claim they've done) is a real engineering accomplishment.
Why take a silent "co-engineering" approach? My guess is that it was a way for Avaya to hedge its bets and see if this was a fruitful approach. I imagine they were worried about any announcements that could be taken the wrong way during the Chapter 11 restructuring. (More on that below.)
EDIT: Mo Afshar responded via tweet:
Multitenant CCaaS running in AWS built on conversational microservices for #Avaya (with Oceana coming!). Not sure how much more pure #cloud we can be. Looking forward to this catching on like wildfire for @Avaya customers! @fonolo @shaiberger

— Mohamad Afshar (@mohamadafshar) February 8, 2018
The New Cloud Business Unit
The company's management team is almost entirely changed over from the pre-bankruptcy crew. CEO Jim Chirico has only been in the post since October. He's halved the number of executives reporting to him, in an effort to make the company more responsive.
Chirico also created the cloud business unit and hired Mercer Rowe (most recently at IBM) to lead it. Mercer's impressive keynote at Engage showed he is ambitious and energized but also not a "cloud idealist". His business unit will include Zang, the group formed from the 2015 acquisition of Esna Technologies, led by Mo Nezaratti.

It will also include the Spoken team. (So that makes two "Mo's" reporting to Mercer, if you're keeping track. Time for a Simpson's joke.) What is still unknown is whether this group will focus on product development or be a quota-carrying operational group.
Laurent Philonenko, formerly CTO, is now SVP of Solutions and Technology and remains in charge of product strategy, so there is some overlap there. Hopefully everyone's vision of the roadmap lines-up well.
What's Going to be Left Behind?
You can be sure that the marketing folks at Avaya's competitors are working hard to think of their next attack. They certainly showed no mercy in sowing doubt about the company's financial stability during the bankruptcy. Now that the financial house is in order, what's the next attack surface?
I think the obvious one is for them to claim "cloud-washing". That is, to claim that Aura-via-Spoken is not "real cloud", but rather a retrofit. To some extent this is true: solutions like PureCloud (which Genesys bought from Interactive Intelligence), InContact, and TalkDesk were designed from the ground up to work from the cloud.
But, on the other hand, if the product delivers what customers need, the "provenance" of the technology should be secondary. The Aura family has not just an enormous install base, but also a large ecosystem of 3rd party add-ons and integrations.
Avaya's new call center, Oceana, would be more immune from this attack. It has not, however, gotten the traction that the company had hoped. Oceana was built on top of the new "Breeze" platform using a modular system of "Snap-ins". The effort around Breeze, Oceana, and Snap-Ins were all spearheaded by former SVP Gary Barnett, who did not survive last year's shake-up. I asked Laurent about this change directly and he answered, diplomatically, that Breeze and Snap-Ins are still very important and are now being made "cloud-native".
How do we view the Breeze/Oceana effort in contrast to the Spoken/Elite effort? Analyst Irwin Lazar (one of our Top Call Center Analysts) put it this way:
With the acquisition of Spoken, it's clear that Avaya is putting more of an emphasis on building out its own hosted offerings that it can either sell direct or through channels.
Another data point: The agent desktop from Oceana is being "disaggregated" so it can run on Elite. There are plans to do this with other components of Oceana. Further to that point, analyst Sheila McGee-Smith wrote:
Now that the [Spoken] team will be working as part of Avaya instead of as a partner… and part of Rowe's focused Avaya Cloud business unit, we can undoubtedly expect to see acceleration in the plans to incorporate Oceana components.
So that all begs a difficult question, which I teased in the intro:
If Spoken's technology is going to be Avaya's cloud strategy going forward, are they quietly de-emphasizing Oceana?
As the saying goes: If everything is a priority, then nothing is.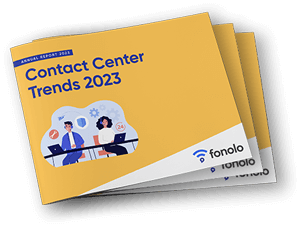 Trend Alert! Contact Center Industry Predictions for 2023
This report offers perspective on where the contact center industry stands today, plus our trend predictions for 2023.