Rumors broke on Friday that Twilio will be launching its own call center product called "Flex" next month. If true, this would be a major shake-up of the cloud call center world. There are already many cloud call centers available, but this one is different.
First, Twilio has strong financial resources to develop and market this new product. Second, Twilio has an advantage over most other competitors in that it runs a massively scaled, global telephony network. Third, and most importantly, Twilio has – until now – been solely providing call center building blocks that other call centers were built on. Now, Twilio will be competing with its customers, at least to some extent.
How big of an impact will this be? It really boils down to one question…
Some Background
Twilio essentially created, then dominated, the category of "Communication Platform as a Service". (Voxeo deserves a lot of credit as a pioneer as well, but they never achieved the global scale that Twilio has. Their "Tropo" technology and team live within Cisco.)  Other competitors in the CPaaS space are running far behind the leader: The aforementioned Tropo, Nexmo (now owned by Vonage), Plivo (still independent) and Zang (owned by Avaya, but probably will be renamed as part of Avaya's pivot to cloud). For more on these see Twilio, Tropo, Nexmo, Plivo… ZANG! What Does it All Mean?.
The keys to Twilio's success, in my opinion, are:
Developer Marketing
From day one, they focused their marketing towards developers recognizing the trend that IT purchases and decisions were starting to be made from a "grass roots" level inside large organizations, rather than from the C-suite down.
API Focus
They strongly connected the company's identity with APIs. This formerly geeky term has become much more common, and now even mainstream publications like Forbes talk about the "API Economy". The API focus also carried through to pricing: everything is sold per-minute or per-use; and the go-to-market strategy: exclusively self-serve. I remember seeing a panel with a number of call center executives. One of them said, "Our software has a full API", the Twilio guy responded, "Lots of products have APIs, our product is an API". Mic drop.
Platform Not Product
Related to the API focus is the concept of staying "low" in the product value chain. If companies are going to build their products on top of your services, they want to know that you're not going to also use those services and compete against them.
With the launch of a call center product, Twilio is breaking all three of the guidelines above, at least to some extent. That doesn't mean the move is bad – companies often adapt as they grow. Now that Twilio is a $400 million public company, it needs to keep finding growth areas, and that may require re-inventing itself. (A more pessimistic view is that the short-sighted pressures of public company investors are forcing it to divert from what's been a successful strategy.)
What's the Impact?
In a blog post last month (The Hidden Power Structure of Cloud Call Center Vendors) we asked: "Will Twilio use its unique position to give its in-house call center an advantage over all the other cloud call centers running on its platform?". I guess we're about to learn the answer to that question.
The companies who built their call center on Twilio's platform, are likely at the edge of their seat right now: Talkdesk, NewVoiceMedia and Serenova. (There may be others as well.) Those three are all significant players in the cloud space, so this is not a trivial issue.

The chart is based on research from Ovum (sponsored by our good friends at Genesys). You can grab it here.
There's Lots of Room
Keep in mind, that this is not a zero-sum situation. There is still a huge opportunity ahead for cloud call center. Although we are already a decade into the migration away from on-premise, growth rates are still impressive: 23.6% according to Markets and Markets. That same report predicts an increase from $5.43 billion in 2016 to $15.67 billion by 2020.
Finding The Balance
The motivation to move "up the application stack" is no mystery: the higher you go, the more value you capture and the larger your revenue-per-deployment. Furthermore, moving up makes your product less of a commodity. The question is,  can Twilio find a balance between moving upwards, and not alienating developers?
According to this story in TechCrunch, an internal memo shows that the company is indeed concerned about the impression that it is competing with its own customers. Their defense, according to the story, is that Twilio Flex will "…put an emphasis on the developer experience… offering basic building blocks to power the communications experience, single sign-on and integration points… it'll take some extra integration work on the side of the customer to make it work."
The language used there is carefully chosen. Twilio already has "building blocks" for call centers; that's exactly what Talkdesk and the others are using! And Twilio has already used it's own building blocks to deploy large call centers. For example, ING used Twilio to replace a legacy Avaya call center. So what's different here?
What to Watch For
What, exactly will Flex be? A self-serve, ready-out-of-the-box product? Or attaching a brand name to an existing professional services team? (i.e. productizing what they did for ING.) If it's more the latter, the impact may not be that great.
If you want to boil it down to a single question, it's this: "Will Twilio announce a per-agent-per-month price?" That question doesn't capture every nuance, but I think it's an important fork in the road. Right now, all the call center components that are available from Twilio are priced individually and "per authentication" or "per task". That makes it difficult to compare shop against the other cloud call center providers. If we see a per-agent-per-month price then "it's on".
One thing is for sure: Twilio's keynote at the Enterprise Connect conference just moved to the top of the "most anticipated" list.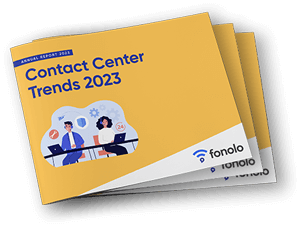 Trend Alert! Contact Center Industry Predictions for 2023
This report offers perspective on where the contact center industry stands today, plus our trend predictions for 2023.