There are a few things to keep in mind when building an A+ team of call center agents. First and foremost, make sure that you're hiring the right people (that's of course more difficult than it sounds).
Once the right candidates are in place, the training becomes critical. We already know how monotonous a call center agent's role can be but, by making the training process exciting and fun, you're creating a better environment for everyone. Remember, it's not just the initial training that's important; creating a culture of continuous learning is also essential to the success of your contact center.
Let's uncover some fun and EASY tactics you can execute!
Walk, Smile, Repeat
If you exercise regularly, you understand all the benefits. It's not just about weight loss or staying in shape, it also reduces stress, improves your mood, and boosts energy. Why not incorporate such a positive activity into your training techniques? Provide morning and afternoon exercise breaks of at least 20 minutes. Organize walking routes ahead of time so they're different for every break.

Where Words Fail, Music Speaks
Music can be a powerful tool. It can engage your brain to activate, sustain, and improve attention. It also encourages emotion. (Think of all those times you tap your feet to a song you really like!) Use music during transitions, or at breaks. You can even use music as a part of a game. Regardless of how and when you use it, make sure the music is energetic and something everyone can relate to. (For example, sticking to Top 40 is probably a safer bet than bringing out the Bach organ concertos. But hey, every environment is different!)
Nothing Will Work, Unless You Do
The truth is, your contact center will fail unless you have the right agents, so it's important for you to get to work and understand what drives them early in the lifecycle. Start encouraging rewards and incentives so agents feel appreciated and excited to be at work. Incorporate badges or certificates at the end of your training, confirming a job well done. Based on your organization's policies, maybe even make it a competition and give a prize to the top-scoring agent.

The Game of Role Playing
People always talk about games and role-playing as separate activities – consider combining them instead. Role-playing is GREAT for training, as it encourages teamwork and allows agents to live out a real-life situation, and games are always fun and stimulate the brain in various ways. Together, the two work like magic!
Here's an example: Have agents pair up and sit with their backs to each other, then let one person describe a drawing while the other draws it. The idea here is to see how well your agents can listen, transcribe, and communicate. These traits are obviously essential in the world of customer service. Cap off the exercise by giving whichever team has the closest matching drawing a prize. (Might I recommend a collection of Bach organ concertos?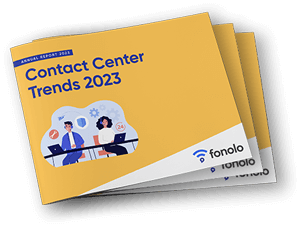 Trend Alert! Contact Center Industry Predictions for 2023
This report offers perspective on where the contact center industry stands today, plus our trend predictions for 2023.