The relationship between contact centers and their customers can be a volatile one. Sometimes the experience is just not up to par, other times customers are ranting and raving about how happy they are. I'm sure your contact center can relate to both sides of the spectrum. Just keep in mind, there are always things you can do to increase the number of positive outcomes you receive. Yesterday, Cupid drew his bow to embrace the love between contact centers and customers. After you put these strategies in place, be sure to review them again and again – consistency is the name of the game.
Here are five things you can do to take your contact center to your customer relationship center.
1) Rethink Your Channels
Go beyond the standard call center metrics! Find where your customer lives and expose your brand to those channels. If it's social media, make sure you're proactively engaging with them on those particular channels. Doing this often translates into positive customer experiences, leading to improvements in customer loyalty, and ultimately, improved brand perception.
2) Get Rid of Hold-Time
If your company has long wait times, the simple answer is a call-back solution. Just remember it's important to consider all the pros and cons of the different call-back solutions and to fully understand the do's and don'ts.
3) Add a Personal Touch
Technology has made it simple to track customer preferences, and big data provides trends and insights. Companies can easily understand a customer's likes, dislikes, preferences, and buying patterns. Organizations that use this data properly can give their customers a better and more personalized experience, outshining the competition.
4) Motivate Your Front-Line Staff
Studies have shown that call center agents quit most often because of their work environments rather than their compensation. Companies need to find more ways to increase agent engagement, improve coaching, and motivate all your call center employees.
5) Invest in Smart Software
Arming your agents with the right tools is one way to keep them motivated at work. When you provide agents with the proper infrastructure you reduce the burden put on them to manage customers, and at the same time, you'll also improve the customer experience. It's a no brainer!
We hope Cupid's tips are able to help! Remember, better customer relationships start at the call center.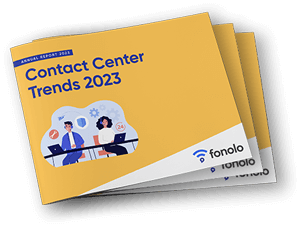 Trend Alert! Contact Center Industry Predictions for 2023
This report offers perspective on where the contact center industry stands today, plus our trend predictions for 2023.