Last week, Fonolo hosted an insightful live discussion on how the new Twilio / Amazon "stack" will impact call center technology decisions moving forward. This expert panel discussed the unexpected power couple, the impact on call center innovation, and so much more! To save you some time, we've extracted video snippets showcasing highlights from the discussion.
First, let's take a quick look at the panel of speakers: Alan Quayle, Dave Michels, Nicolas de Kouchkovsky, Shai Berger.
Amazon and Twilio Dominance in The Call Center World
Call centers are increasingly built on top of platforms created by Amazon and Twilio. That includes newcomers like TalkDesk and Serenova, legacy vendors like Avaya and Genesys and companies from adjacent sectors expanding into call centers like ZenDesk. This dominance will be the defining factor in the next chapter of the call center.
What will be the overall impact on the call center industry? Will it help or hinder innovation? Raise or lower prices? Listen to the panel discuss.
Pure Consumption Pricing in The Call Center World
For the last decade, the dominant tension in the call center world has been between the "old way": buying equipment via up-front payment plus maintenance contracts; and the "new way": buying a cloud service via monthly subscription. But now Twilio, Vonage and Amazon have introduced a different approach: pay-by-the-minute.
Will "pure consumption pricing" overtake the more traditional seat-license model? Will the other cloud call center vendors follow suit or will this remain a fringe phenomenon? Let's see what the panel has to say.
Channel Collapse in The Call Center World
Channel partners have traditionally been a big part of the call center world. (Last year, 80% of Avaya's revenue came through their reseller partners.) But in the last few months, 3 of the largest call center VARs have merged under one roof: Converge1, SPS and Arrow SI. The move to SaaS pricing and cloud deployment has made a lot of the processes obsolete – specifically those that made their business model viable.
Is there still room for the traditional channel partner in a world dominated by cloud deployment, SaaS-pricing (or consumption pricing)? Watch this segment to hear what the panel thinks.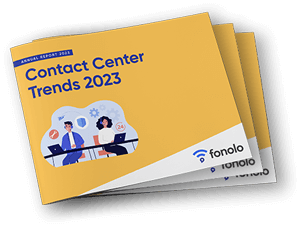 Trend Alert! Contact Center Industry Predictions for 2023
This report offers perspective on where the contact center industry stands today, plus our trend predictions for 2023.