If you're on the hunt for great talent, you'll appreciate how time-consuming the hiring process can be. This is the starting point to finding your next great employee, someone who will take part in influencing the company culture and success – that's no easy feat. Unfortunately, the contact center space is one that experiences great churn, making the interview process even more critical. Take a moment to consider the cost associated with employee turnover, including interviewing, onboarding, and reduced productivity, just to name a few. This is a huge expense for call centers and one that can be easily reduced.
Interview questions carry a ton of importance, however, not everyone understands which questions to ask, and more importantly, what answers to look for. As candidates prepare and practise their responses, interviewers too should be compiling critical questions and thinking about the best responses. It's also important to have a mix of 'canned' questions that are significant to the success of the role while leaving room for some conversational questions. If you can develop a dialogue in the interview you're more likely to build rapport, which can lead to faster decisions and a better outcome.
These interview questions work for any level of the hiring hierarchy – contact center managers, supervisors, even call center agents.
1) Tell me about yourself.
Let the candidate tell their story before jumping into all the specific questions. This helps to get the candidate comfortable, and it also gives you a high-level overview of who they are. A good answer will explain why they left one organization to go to the next, and what they learned from each venture.
2) What about the job description enticed you to apply?
Now that you know a bit about them and their background, it's good to get a sense of why they're interested in this particular role. Look out for specific keywords in their answer. Assuming this is a role for a contact center agent, responses like "customer-facing" or "problem-solving" might be great keywords for you. It also shows you how well they understand the role.
3) Tell me about a time when you had to handle a difficult customer.
Surely they have a story to tell, presuming they came into this role with some customer service experience. It's important to see what kind of story they choose to share. Ideally they'll explain how they were ultimately the hero in an otherwise terrible customer interaction. That they went over and above to make the customer happy, and that their manager was thrilled with the outcome.
4) Tell me about a time where you received constructive criticism.
It's always interesting to hear how people handle constructive criticism. This is a tough one to analyze, but you can usually tell in their story if the criticism was well received. If the candidate says something like, "I appreciated the feedback", then it's likely they weren't defensive when the advice was received.
5) Where do you see yourself in 5 years?
Ideally, the person you hire is someone who can grow in your organization. If you're hiring an agent and their goal is to be involved in management in the next 5 years, it shows you that they're motivated to grow and lead. This is a great way to hold on to talent!
6) Why are you leaving your current role?
If the candidate is currently employed, it's important to understand why they are moving on. Answers like, "I'd like to learn more" or "it's time to spread my wings", are great, but not if they've only been at the job for a few months. Watch how often the candidate jumps from job to job, since this can be a bad sign. Also, if they quickly go into shaming the company, this shows a lack of loyalty and professionalism.
7) Tell me about the toughest decision you had to make in the last 6 months?
Talk about a challenging question! I can't even think about a tough decision I've had to make in that timeframe. (Don't worry, we're leading into an easy question next.) There's no right answer here, just let the candidate tell their story, and hopefully, the challenge had some merit.
8) What do you like to do for fun?
If they say things like, "hanging out with friends and watching movies", they probably aren't the go-getter type you're looking for. Great talent has a passion outside of the office: Perhaps they like to cycle, play guitar in a band, or they have a side gig (what better way to show a hard work ethic!) In any event, while 'hanging out with friends' is a good social trait, you should certainly look for the candidate that offers more to this answer.
9) Do you have any questions for me?
This is a good opportunity to see how much they know about your business. Maybe they're asking about your client base, or what the work environment is like – these are all great questions! Bad questions would be jumping right into compensation or, worse, not having any questions prepared at all. The first shows you that they're mainly interested in money and not the opportunity; the latter shows you they aren't serious about the role.
This is a solid start to getting you to the right candidate! It's also important to remember that employees need continuous nurturing. After the candidate is hired, make sure you devote time to ongoing relationship building. Have regular meetings to make sure they're happy, and their goals are being met.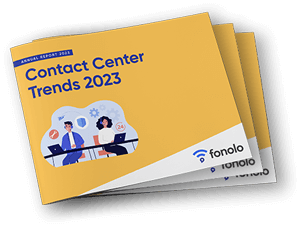 Trend Alert! Contact Center Industry Predictions for 2023
This report offers perspective on where the contact center industry stands today, plus our trend predictions for 2023.