The number of cloud-based call centers is growing quickly and they are increasingly built on top of Amazon and/or Twilio. That includes both newcomers like TalkDesk and Serenova, as well as legacy vendors like Avaya and Genesys. However, Twilio and Amazon now have their own call center platforms (essentially competing with their own customers). Will the Amazon / Twilio "stack" define the contours of the next generation of call center?
How the New "Stack" Will Impact Technology Decisions Moving Forward
If more and more call center platforms are built on the same infrastructure, does that mean that they will effectively work the same way? If that's the case, what's the distinguishing factor for call centers looking to choose a brand new system or upgrade their current system?
Join our panel discussion on Thursday, March 22nd at 2:00 PM ET / 11:00 AM PT to hear the experts examine this and more! Tweet your comments and questions to @Fonolo with hashtag #CCTR or comment on our conversation streaming live on YouTube.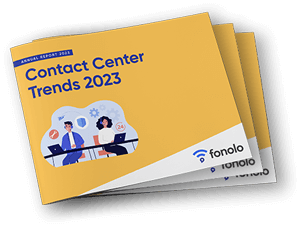 Trend Alert! Contact Center Industry Predictions for 2023
This report offers perspective on where the contact center industry stands today, plus our trend predictions for 2023.