Something new this week! As a result of recent acquisitions and other maneuvers, we now have a nice sample size of publicly listed companies for whom cloud call center is a key focus. Many of them released their Q4 earnings in the past couple weeks. It's interesting to review the numbers at a high level to see what kind of picture they paint for the near term future of the sector. Short answer: Pretty positive.
Let's take a quick look at what was reported by Avaya, Five9, NICE, RingCentral, Twilio and 8×8.
Avaya
It was a big moment for Avaya: their first quarterly report as a public company in 10 years. It was also the first earnings call run by new CEO Jim Chirico. (Slides here.) They reported $752M in revenue, but that's a bit skewed because they had to cover a period that started with the end of their bankruptcy, rather than a regular calendar quarter. But the number that jumped out for me was that contact center revenues grew 16% vs the previous quarter.
One question is whether their acquisition last month of Spoken quiets the critics of their cloud strategy. So far the answer seems to be yes. You can see in the transcript that analysts asked this several times. Chirico's answers: "…the Spoken acquisition … brings full cloud multi-tenant capabilities … offers our high enterprise contact center customers a real path now to the cloud…" and "We are now building out Spoken, which was really purpose built for Avaya and it is native cloud…"
Further Reading:
Avaya Accelerates its Cloud Pivot with Reorg and Spoken Acquisition
Avaya Shakes Off Debt, Heading to Public Market
RingCentral
RingCentral had a break-out year. They reported $140.5M in revenue last quarter, which is a 34% increase over last year.  They are primarily a UCaaS company, but I think that's going to change. Currently they resell inContact as a call center solution, but it's rumored they will either build or acquire a call center of their own shortly. One hint towards the build option is last year's hiring of Jim Dvorkin to be the Call Center SVP. He was formerly CTO of Five9 and VP of Call Center for Salesforce. (See Salesforce Has Many Fingers in the Call Center Pie.) They also brought over our pal Max Ball from 8×8, to be director of product marketing for the call center. (He held a similar role at 8×8).
If they build, odds are good it will be on top of the Amazon/Twilio stack that has become the norm. (As we wrote about last week.)
Further Reading:
RingCentral Earnings Guidance Blows Past Estimates, Shares Jump
Slides from their Connections Conference
8×8
8×8 reported quarterly revenue of $75.58M. I believe about 20% of that is from the call center product – ("VCC") has been seen as a bit lackluster by the public and analysts, as you can see by Ovum's latest Decision Matrix. But their recent launch of the new "X8" product last October is aimed at fixing this. When asked about the conversion of customers to the new product, CEO Vik Verma said, "Over the next few quarters categories are going to go away, and they'll all be a continuum of X products… X8 will become our signature product, which will have a lot of core functionality also from VCC brought in, all the way from speech analytics, quality monitoring, et cetera, will all be part of X8."
Further Reading:
The Hidden Power Structure of Cloud Call Center Vendors
8X8 Announces the Launch of Virtual Office Editions
Twilio
Twilio handily beat revenue expectations, rising 41% to $115.2M for the quarter. Twilio is already a considerable force in the cloud center world via its platform. Companies like Serenova, TalkDesk, NewVoiceMedia & Zendesk use that platform to build their own call center products. Twilio then gets a revenue for each minute of voice and each text message that runs through its platform. Twilio also builds a la carte solutions for large clients like ING.
The big question looming here is whether they will announce their own cloud platform at the upcoming Enterprise Connect conference.
Further Reading:
The Twilio / Amazon 'Stack' Will Dominate the Next Call Center Era
Twilio Shakes Up the Cloud Call Center World with Flex
Five9
Five9 is from the "original batch" of cloud call centers, and the first to go public. They just reported record revenue of $55.4M for the last quarter, which is up 25% year-over-year. They also hit the nice milestone of $200M in revenue for the year.
One interesting development recently is the acquisition of AltoCloud by Genesys. Five9 had been using Altocloud for the journey analytics component. Now they'll have to find a replacement.
Further Reading
The Hidden Power Structure of Cloud Call Center Vendors
Five9 Reports Record Annual Revenue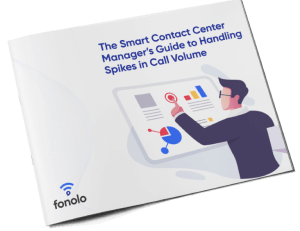 How to Manage Call Spikes in the Contact Center
Download this free guide to learn how to protect your contact center from call spikes.