It's been an exciting year so far in the world of contact centers. In just the last month we saw the release of Apple's Business Chat, the announcement of Twilio's new Flex call center platform and the acquisition of Altocloud by Genesys. A new pricing model, based on pure consumption, seems to be emerging. A new privacy regulation (GDPR) has multiple impacts on call centers that operate in, or provide service to, Europe. In short, there's a lot going on!
The only way to keep up, is to rely on other folks to dive deep into each topic. Fortunately, we have many such people in our industry producing excellent content. Below are some of the reports that we have found most interesting. (You should also check out, 4 Contact Center Reports to Start Off Your Year.)
Contact Center Priorities for 2018
Who wrote it: Contact Center Week / IQPC
Where to get it: https://www.customercontactweekdigital.com/call-center-management/white-papers/ccw-winter-executive-report-contact-center
About:
We read, and blog about, a lot of content from Call Center Week. They are a division of IQPC, which produces the Call Center Week conferences. (If you'll be at the Vegas show this June, come to our booth and say hi!) For this report they surveyed customer experience, contact center, marketing, customer care, IT, and operations professionals. They don't reveal the number of people surveyed or how they chose the companies, but they do say that 49% of respondents have over a $1b in revenue, so this data is going to skew towards the larger organizations. That's something to keep in mind as you assess whether the data is relevant to you.
Key findings:
Reducing customer effort ranks as the #1 customer experience priority for the coming year.
That makes sense, but the term "customer effort" is so nebulous, it's hard to extract much meaning from this data point.
Voice is still the channel ranked first in terms of investment focus for 2018.
We're not surprised! See this recent post on the confusion about the enduring role of the voice channel
Adding virtual queuing or call-back solutions is a top priority with 36% saying it's a priority for this year.
This lines up with our experience selling a call-back solution. See also Survey Data Shows Call-Back Popularity Growing.

Our favorite chart:

Customer Service Index Report
Who wrote it: Five9
Where to get it: https://www.five9.com/landing/customer-service-index-report
About:
This is a two-for-one deal from cloud call center vendor Five9. They commissioned Zogby Analytics to ask questions about the modern customer experience to two distinct groups: consumers and business decision makers (BDMs). They produced two reports, one for each group. The findings listed below, as well as the chart, come from the consumer version (which is based on opinions of 1,138 US respondents), but we recommend both reports.
Key findings:
A majority of consumers (54%) still cite the phone as the "preferred method" of communication.
The results from questions like this are hugely dependent on audience, and the phrasing of the question. But this does line up with similar results we've seen. Compare, for example with State of Customer Care report we covered here.
Popularity of chat support continues to rise. When combined with social media channels, that category is now more popular than email.
Being "preferred over email" is definitely a significant milestone. This will be a big year for chat, in particular with the launch of Apple's product. See Apple's Business Chat Has a Golden Moment to Dominate Customer Service.
Our favorite chart:

Customer Experience Transformation Benchmark Study
Who wrote it: NICE-InContact
Where to get it: http://www.niceincontact.com/call-center-resource-finder/2017-incontact-cx-transformation-benchmark-study-business-wave
About:
Like the Five9 survey above, this one also compares responses between consumers and business (410 and 299 of them, respectively). They found that consumers rated customer service 17% lower, on average, than business rating themselves. That's not too surprising, really, since everyone is naturally biased to think positively about their own company. There's a lot of good data in here, but the charts are quite crowded and confusing. Prepare to invest a little more time to extract the meaning from this report.
Key findings:
Over half of business will need more resources for agent assisted channels in the next year. (see below)
This seems to mean that the overall growth in the number of contact center agents will continue. A lot of people find this counter-intuitive because of all the new technology announcements in the self-service realm. It's reasonable to assume that improving self-service will decrease the need for agents, but the relationship is more complicated. See Is Chat Eating into Phone-Based Customer Service?
Among channels slated to receive investment in the next year, the most popular is a tie between email support and company website. Voice support is the next most popular, followed by mobile app and social media.
When it comes to investing in email and the company website, it may be difficult to separate effort that is tied specifically to customer service from all the other functions performed by email and websites.
Businesses report a higher success rate with agent-assisted channels vs self-service channels (63% vs 52%, respectively).
This is an interesting result, but one has to keep in mind the huge difference in cost between the two channels. The report itself has an interesting break-down of these success rates by specific channels.

Our favorite chart:

What Contact Centers Are Doing Right Now
Who wrote it: Call Centre Helper
Where to get it: https://www.callcentrehelper.com/report.php?id=278
About:
This is a survey of the readership of the Call Centre Helper magazine, a leading online site based in the UK which caters to call center professionals. They surveyed 380 people, and compared the results with previous years. One of their headline results is actual counter to the previous two reports cited in this post: fewer customers using inbound voice channel. Email use continues to rise as well.
Key findings:
21% of contact centres have moved to the cloud and 41% have no plans to do so. The remainder are somewhere in the transition path.
The long march to the cloud continues. It's important to realize that, even after all these years, there is still a long way to go before that transition is done. For more see The Hidden Power Structure of Cloud Call Center Vendors.
Over 80% of respondents said there will be an increase in the use of interaction analytics, continuing a trend that has seen growth in use of this tech from 9.2% to 13.4% in the past year.
The industry has been responding to this trend through new product launches and acquisitions, such as the purchase of Altocloud by Genesys. See Public Company Earnings Show Cloud Call Center Strength.
Our favorite chart: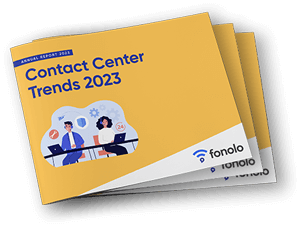 Trend Alert! Contact Center Industry Predictions for 2023
This report offers perspective on where the contact center industry stands today, plus our trend predictions for 2023.