Whether it's a bad date, a bland meal, or a mean comment on social media, negative experiences tend to stand out in people's minds; nearly to the point of entirely clouding out any of the good. This phenomenon is especially exacerbated when it comes to a negative experience with customer service.
The truth is that a negative customer service experience can spread like wildfire through social media, causing some serious damage to consumer trust and brand perception. Even the most minor of complaints and misunderstandings can quickly be blown out of proportion if not handled correctly. Here are a few key ways for a call center customer service representative to remain calm, and effectively manage a difficult customer – saving the company a lot of trouble in the long run.
Make Customers Feel They're Right, Even if They Aren't
Unless you've been living under a rock, then you've likely heard of the expression, "the customer is always right". First coined in 1909 by the infamous founder of Selfridge's, a department store in London, this age-old adage highlights the importance of establishing and maintaining a positive impression and relationship with customers. Now, does that actually mean the customer is always right? Absolutely not! Of course, there are always customers who are looking to take advantage of a company, "game the system", and nearly bully customer service reps to get their sometimes impossible, unreasonable demands met.
However, it's critical that every customer service department is appropriately trained to thoroughly investigate and mitigate a frustrated, upset, or even difficult customer – valid or invalid. Oftentimes, people are just looking for reassurance that the company understands their problem, is empathetic, and is willing to do whatever they can to alleviate the problem. Customer service reps should look to ask the customer a lot of questions in order to ensure they are understanding the breadth of the issue at hand and use reassuring language to keep customers calm. That's how you make the customer "feel" like they are right – that you're putting them first, regardless of whether or not the concern is necessarily "right", or not.
Mitigate the Problem with an Apology
No one wants to have to deal with difficult customers. In fact, one of the best ways to mitigate further damage, and to maintain the sanity of an individual customer service representative – and even an entire team – is to manage the problem as swiftly as possible. The best way to do this is with a formal apology, and promising to reconcile the customer's concerns as quickly as possible.
After an investigation is done and answers are available, the manager of the customer service department should take the initiative to hop on the call, showing a positive brand representation, and offer a formal apology to the customer. Let them know you appreciate their patience, hope for their continued business, and that you'll do everything in your power to ensure the expressed issue doesn't happen again.
If the company was actually in the right, then the manager should still apologize for failing to meet expectations, but also provide adequate justifications for why proper policies and procedures were followed. This did wonders in calming my frustrations when dealing with a major telecommunications provider over a mistake in my cell phone bill. Having the manager of the department step in and offer their sincere apologies, and ask questions on how they could improve things to avoid this problem helped me continue to see the company in a good light, and despite threatening to take my business elsewhere, I ended up staying with them in the long run.
It's About Brand Management
Ultimately, swiftly and effectively managing a difficult customer is really about brand management; this is especially important in the age of social media where a negative tweet could do great damage to a company's public relations and perception. Thwarting this kind of negative attention, and putting customers first, regardless of how unpleasant they may be is what sets successful, lasting companies apart from ones who fall under negative public scrutiny. No company should believe it is invincible against threats.
Whether in customer service, relationships, or any other facet of life, there will always be difficult people and negative experiences that will threaten to color impressions in a bad light. As effective customer service call centers and departments, you're the gatekeepers protecting a company's brand; ensuring that consumers continue to return to your company and maintain a positive impression of your brand.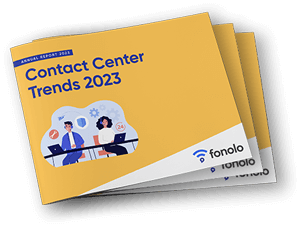 Trend Alert! Contact Center Industry Predictions for 2023
This report offers perspective on where the contact center industry stands today, plus our trend predictions for 2023.