This post has been updated for the new decade!
Read it here now: Top 20 Customer Service Blogs You Have to Read in 2020
I think it's fair to say that people feel the need to constantly improve in their career, regardless of their profession. Some may sharpen up on their skills by attending a course, others may sit through a 1-hour webinar, and some may register for a tradeshow. In the case of the customer service profession, we find them to be a verbose group of dedicated blog followers. They love to read about the latest analyst findings, or interesting tips and tricks for how to spice up their support department.
Since Fonolo is a popular customer service blog contributor, we understand how hard it can be to find top-notch content from reputable sources. To save our dedicated readers some valuable time, we've compiled a list of the top 10 customer service blogs to follow. Here they are in no specific order:
1. Shep Hyken 
Shep Hyken is a customer service and experience expert and the Chief Amazement Officer of Shepard Presentations. He is a New York Times and Wall Street Journal bestselling author. Shep's blog is filled with great customer service insights. We specifically like his wrap-up of weekly customer service posts that he amalgamates from a variety of resources.
2. HelpScout
HelpScout is a help desk software solution. They aim to make every interaction more personalized. Their blog is written by a variety of contributors and boasts over 75,000 subscribers! They've labelled their blogs nicely, so you can easily find the blog that suits your needs. For example, if you're looking for customer support software you could read their "product" blog, or if you're looking for blogs on customer service "culture" you can easily jump to that section.
https://www.helpscout.net/blog/
3. Marsha Collier
Marsha is very well-known in the industry. She's the author of the "Ultimate Online Customer Service Guide" and over 40 books in the "for Dummies" series on best practices for eBay, Twitter, Facebook and social media. Her blog talks about technology, social media, and customer relations.
4. Kate Nasser – Smart SenseAbilities Blog
Kate Nasser is known as The People Skills Coach and has been helping global teams for the past 25+ years. Kate is an inspirational writer and speaker. She blogs about customer service, leadership, people skills, and more. In the spirit of today's article, here's her latest on the customer service space.
http://katenasser.com/category/customer-service/
5. Customer Think
CustomerThink is a global online community of business leaders. The site serves 100,000+ visitors per month from over 200 countries around the world. This is a great place to learn about every facet of customer-centric business management in articles, blogs, interviews, and news.
6. Salesforce
Desk.com is a support software solution that can handle multi-channel, mobile, case management and productivity. Built with the Salesforce backbone, this is certainly a sought after solution in the space. Their blog talks about support strategies from customers, partners and expert bloggers.
7. Flavio Martins – WinTheCustomer
Flavio Martins has 15+ years of customer service experience. He has a passion for technology, customer relations and customer loyalty. Flavio blogs quite regularly, sharing his insightful ideas and refined perspective. You'll find his articles to be very thought-provoking and provide action for the reader on how to improve.

http://winthecustomer.com/category/customer-service/
8. Annette Franz – CX Journey
Annette has led Consulting Services departments for several companies that focus on improving both the customer and employee experience by utilizing technology. Annette is a regular contributor and knows how to keep her readers engaged. Her blogs on the customer service and customer experience space are a must-read!
9. Jeannie Walters – 360 Connext Blog
Jeannie Walters is the Chief Customer Experience Investigator and founder of 360Connext, a global consulting firm specializing in the customer experience. As a writer, podcaster and instructor you're always sure to find excellent content on Jeannie's blog.
10. CRM Daily
CRM Daily is an online publication for NewsFactor. Over the past 15 years, NewsFactor Network has become one of the leading publishers of business and technology news. This blog focuses on the latest news in customer service and will often talk about what's happening with well-known technology brands like Amazon, eBay and Microsoft.

http://www.crm-daily.com/section.xhtml?category=41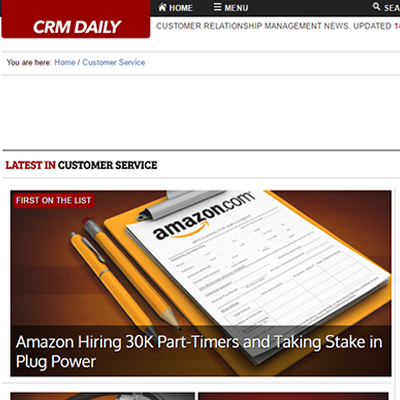 Discover the Contact Center Trends That Matter in 2024
Dig into industry trends and discover the changes that matter to your business in the year ahead.