It's happening: We're collectively witnessing a "Frankenstein moment" on social media, and within the Internet in general. In 2018, companies, platforms, and users alike are keeping an even closer eye on privacy and, importantly, verified, trusted, and accurate content. Luckily, those seeking reliable sources for CX and CS-related topics can still rely on a special corner of the digital sphere, one which has made a comeback in recent months: Blogs.
For trusted, richly informative, and dynamic articles on customer experience tips and trends, we strongly suggest you turn your attention towards these trusted bloggers nay, industry leaders. This fabulous bunch will enrich the lives and careers of customer experience professionals, all through the power of their wisely written words.
Get ready to bookmark.

Bliss is a fitting last name for the Founder and CEO of CustomerBliss, which focuses on improving the lives of customers in any industry. With career credits like Microsoft and Lands' End under her belt, Bliss "pioneered the role of the Chief Customer Officer" and, with her understanding of enriching customer loyalty and growth, is now a celebrated keynote speaker, author, and even a podcaster (Check out the Human Duct Tape show here). Her blog is a must-read for those keen on leadership in customer service, customer listening, and engagement.
You may not know this yet, but Intercom will make you rich (with information, at least). This San Francisco-based company innovating in the field of messaging products (highly useful tools for those in sales, marketing, and customer support) hosts an incredibly valuable and engaging blog with content related to sales, product management, and customer support, direct from the minds of innovative industry experts. On the agenda? Customers. Intercom's blog is fundamental reading if you're keen to learn about building customer relationships, creating trust, and nurturing a healthy help center.

It's impossible to say 'Influencer' and 'Customer Experience' in the same breath without thinking of Peter Lavers, a titan of #CX with an impressive career at the helm of big brands like Rolls-Royce, Bentley, and Customer Futures. When you arrive at his company homepage, WCL Management, which works with B2C, B2B and public sectors, do yourself a favour and head on over to the Latest Thinking section. Your mind will be blown by articles on an impressive amount of subjects (in particular, have a look at the gems on Customer Behaviour, CRM, and Strategy) contributed by guest authors and, happily, Lavers himself.

Author of More is More, a definitive text on how businesses can better their customer experiences, Blake Morgan is a "Customer Experience Futurist", podcaster (See The Modern Customer podcast here), and undeniably a blogger-to-watch. Morgan's blog roll is both vibrant and varied, with many revealing case studies on some of America's most celebrated brands like Adobe, Capital One, and Ford. The fact that her content is gripping is not surprising, given that her writing credits include heavyweight publications like The Harvard Business Review and Forbes. With her seasoned and insightful posts and podcasts, you'll definitely want more of Morgan this year.

Toni Newman is all about innovation. The "Professional Innovation Catalyst" hosts a blog which is home to diverse and dynamic content. Video, podcasts, and cleverly-delivered write-ups are married together with one central theme in mind: To grow your business and turn your CX experience on its head, you must innovate, innovate, innovate. Not only is Newman's blog insightful, informative, and indubitably disruptive (Check out her provocative articles on how, when and why to fire your customers), it's also incredibly fun and imperative reading for 2018 and beyond.

Make no mistake: Quality assurance is the name of PlayVox's software game. It's no wonder, then, that the company plays generous host to a resourceful blog emphasizing all things customer service. Customer retention, agent management, and the intertwining of quality assurance and customer experience are some of the major themes up for grabs, largely from captivating author Jade Longelin. Something in particular sets PlayVox's blog apart from the rest: It takes a sobering look at the importance of culture. It's definitely worth your time to school yourself on growing workplace cultures that positively impact the lives of agents, businesses, and most importantly, customers. You'll be glad you did.

With 30+ years of club management under his belt, Bill Quiseng is a seasoned customer service and experience professional, influential thought leader, and celebrated CX blogger. His website is chock-full of useful information and posts on how CRMs can improve the experience for customers and agents alike. Quiseng's has also curated blogs, featuring content from leading professionals in the industry like CX guru Shep Hyken, making it easy to peruse material from the most insightful, innovative thinkers in the business, all in one go.

If you've ever been a part of managing a CX team, you've probably heard of Zendesk, whose products help streamline customer interactions through multiple channels, and make the lives of agents easier (and happier). On their writing-rich blog made even more arresting with its delightful digital imagery, Zendesk practices what it preaches. Of particular note is the breaking down of our favourite buzzword: omnichannel. The takeaway? Not only is omnichannel customer support something to be desired; it's in demand.
Missed Fonolo's 2017 Top Blogger List? No problem: You can find it here.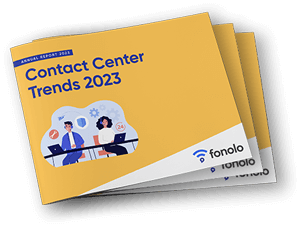 Trend Alert! Contact Center Industry Predictions for 2023
This report offers perspective on where the contact center industry stands today, plus our trend predictions for 2023.