Motivating call center employees is the key to accelerating whatever you're looking to improve or optimize in your contact center. But, motivation doesn't come naturally to most people. 
There are ways to motivate call center employees and entire teams of agents, who are pivotal in establishing and maintaining customer satisfaction. The more motivated a customer service team is, the more likely they are to positively impact customers, colleagues, and the company at large.
Here are some effective and fun ways to motivate your call center.
Don't Hate, Appreciate!
One survey found that of 2000 respondents, 81% said that they felt motivated to work harder and better when they felt appreciated. Appreciation was cited more than twice as often as any other answer (it was even rated higher than more money).
Aside from professional settings and workplaces, this is also a common answer for the success and longevity of personal relationships. Humans enjoy feeling valued as individuals and as productive members of a team or organization, and the result is a higher sense of motivation and efficiency.
One of the easiest and most meaningful ways that a call center manager can show appreciation towards the customer service department is to emphasize the importance of their role within the organization. Positions such as customer service representatives, particularly at call centers, are often considered entry-level or low-skilled positions.
Any effective call center manager knows that this is not the case. The expertise that goes into managing an array of customer inquiries and personalities is exponential. Customer service reps and teams also have to maintain a calm demeanour, be organized, operate efficiently and possess great product and company knowledge to deliver optimal customer satisfaction.
Acknowledging and stressing the various important aspects of customer service roles will help call center employees feel seen, valued, encouraged and motivated to be the best they can be.
Foster Friendly Competition Through Creativity
Watch any sports event on the planet, from pee-wee softball to elite professional football players and athletes are motivated by the competition they face on the field.
When orchestrated productively and effectively, competition can be a great force for motivating employees and increasing innovation. The same is true within any contact center.
The caveat is that customer service team members need to buy into the competition. The competition cannot be a quota in disguise, although there's nothing wrong with running a SPIF.
Customer service reps need to be able to participate in and set the tone for the competition. Managers should set the stage to make it happen.
For example, one of the best ways to get team members to buy into a customer service department's goals and vision is by encouraging them to be creative. Create a company culture where employees are encouraged to put ideas forward and think outside the box. This creative energy will naturally develop into healthy competition among other teams and individuals, which will spark further innovation, ideas, and initiatives, improving customer satisfaction and the overall customer experience.
Empower Teams to Make Their Own Decisions
We're often far more motivated about anything when we have a sense of ownership in the idea. I'm far less likely to want to lose weight if I feel like someone else is forcing me versus wanting it for myself. When it comes to customer service teams, make sure reps are encouraged and empowered to have a say when it comes to decisions coming from management and contribute their ideas and then run with them.
For example, if a call center rep creates a special discount offer they believe will help drive continued loyalty, give them the creative space to try that new thing within their current role.
Empowering your customer service reps will get them more engaged and motivated. And, if you want to motivate and encourage them further, get involved! Managers and supervisors should get their hands dirty by implementing some of the initiatives started by customer service reps. That will provide you with deeper insights into programs and processes and allow your team members to see that you value their input, making them feel more appreciated and motivated for the future.
By appreciating customer service team members, giving them the freedom and flexibility to get creative and contribute their ideas, and getting involved in their initiatives, you'll have employees that are motivated to deliver the very best in customer service. The growing sales and customer satisfaction numbers are sure to reflect that.
Stop Using Call Volume as a KPI 
First, call volumes should never be used as a measure of success. The focus should always be on resolving customer problems effectively and politely, focusing on customer retention. That increases job satisfaction because employees have regular opportunities to celebrate a job well done and goes hand in hand with empowering call center employees.
Reduce Call Volume Surges and Hold Time
Long hold times are the scourge of the call center employee and customers alike. They frustrate everyone. They increase the pressure on the team and get every conversation off to a negative start.
Removing the friction and painful processes in the workplace is always a great way to help keep call center employees motivated. Hold times from call volume surges are the most painful things about working in a contact center. The best way to achieve this is through voice call-backs to reduce and even eliminate hold time. Agent satisfaction is bound to increase.
Set clear long-term goals
Setting goals with your call center team is a great way to motivate agents and keep them engaged. People need direction and to feel like they're working towards a better future for themselves.
We achieve that better future by setting goals and making measurable steps towards them. Each time we get a step closer, our brain releases dopamine to help us keep going. Setting clear, measurable, attainable goals that employees feel enabled to achieve can greatly lift engagement and motivation.
Use the Right Call Center Tools and Technology
There are dozens of call center technology platforms out there. Choosing the right one has a huge impact on the business, including how motivated contact center employees are day-to-day.
Painful and clunky software can make simple tasks an ordeal. Constantly switching between software and browser windows is one of the top complaints of call center agents. Listen to employee feedback on your technology and processes and implement suggestions that increase their usability and you will see a significant boost in agent performance.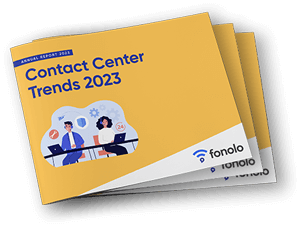 Trend Alert! Contact Center Industry Predictions for 2023
This report offers perspective on where the contact center industry stands today, plus our trend predictions for 2023.