In the best of all possible worlds, a call center is a healthy hub of open communication, brimming with competent agents and dynamic managers who diagnose and fix client problems using the best tools available. Their victories are endless, and the loyalty of their clients is palpable.
For many support teams, however, this ideal scenario remains unrealized: Poor infrastructure, employee malaise, and overall lack of vision each contribute to an insufferable call center team environment that sets everyone, and everything, up for failure.
But fear not: No support team is too far-gone; there is always room for improvement, and ways of curing the worst of ills. Keep the following broad strokes in mind if you're aiming to breathe new life back into your call center. The secret to reviving it? Focus on the heart of the matter: People and platforms.
Keep the Blood Flowing: Improve Your Channel Infrastructure
One of the most serious symptoms of ailing call centers is a lack of technological infrastructure, an organizational backbone that would greatly improve both response times and customer-agent relationships. The tech-tools available to call centers today have been proven to sharpen a call center's focus; they become increasingly vital during critical times faced by most support teams (such as high spikes in call volume, and periods of increased employee turnover). If you're looking to make progress, you might consider the following for keeping the blood flowing in your call center:
Embracing multi-channel software (which offers web, mobile, and phone channels as modes of customer contact): Implement technologies which can record all client interactions and synchronize such information for the agent so they can completely understand the issue (and solve the problem much sooner);
Curing through cloud and call-back: Using a cloud-based call-back solution will lessen hold times for customers and thus nurture client loyalty and repeat business;
Bettering yourself through bots: It's worth checking out automated chat-bots as a means of answering easy, FAQ-like client questions online, while lessening call volume by reserving calls specifically for more complex customer inquiries; and
Choosing chat: It's integral to set an efficient, internal chat system so agents can communicate, ask for help and guidance, send relevant files, and brighten each others' days with the occasional inspirational meme.
Whether your business is big or small, embracing technologies like chatbots, messaging systems, and cloud-based call-back software makes for a less sluggish, more invigorated call center team. They also make for stronger, collaborative encounters with customers who will likely reach out to your business again as a result. The takeaway is clear: Give your team the right tools, and they will finish the job.
Weekly Checkup: Keep Your Call Center Team Healthy and Happy
While technology can potentially be a life-saver, we mustn't forget the true heart of the call center: The people. Due to overhead cost-cutting by many businesses at the call center level, support teams often experience burnt-out staff who haven't had much recuperation time. This sad situation leads to employee disengagement, lack of focus, and eventually, high turnover volumes. However, even in these trying circumstances, there are ways to fortify your workforce by keeping your people healthy and happy:
Educate to invigorate: Agents may lose motivation and begin a job hunt when they feel unchallenged, overworked, or unsupported. While you get some good technology in place for them, encourage them to sit in on free webinars, team up on calls with more senior agents, and wherever possible, subsidize a certificate program of their choice (as a gesture of your confidence in them). Professional development is invigorating, and can bring surprising new energy to a formerly flat-lining employee;
Plan that monthly jam: Group lunches, coffee runs, or post-work hangouts are excellent ways of injecting energy into a normally cooped-up call center team. Connecting on a casual basis and checking in with them in a relaxed environment outside the walls of the business builds comradery by adding depth to your collegial experience. It likewise provides them with some agency, and humanity, by encouraging them to show the personality that lives behind their call script; and
Go for a daily down-lo: Fitting in a one-on-one session with each agent, from 30 seconds to 30 minutes, is enlightening for all parties. Since agents are the first responders to client crises, their insider knowledge is invaluable for the business as a whole and can lead to positive change. A few minutes of conversation and checking-in each day will often be all of the support they need. After all, there is often strength in relationships where communication is open, and often.
If you're considering an overhaul, or at the very least, a health-check of your call center, consider first what is at its very core: People and platforms. And remember: Your call center is not dead, but it's up to you to save it through positive change.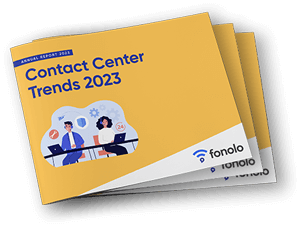 Trend Alert! Contact Center Industry Predictions for 2023
This report offers perspective on where the contact center industry stands today, plus our trend predictions for 2023.