Last week, Fonolo hosted an insightful live discussion on the top call center metrics you need to be tracking . This expert panel discussed NPS for customer satisfaction, popular call center metrics, the future of the voice channel, and so much more! To save you some time, we've extracted video snippets showcasing highlights from the discussion.
First, let's take a quick look at the panel of speakers: Daniel Hong, Jon Arnold, and Shai Berger.
Is NPS Still the Best Metric for Customer Satisfaction?
For over a decade, "Net Promoter Score" has held the spotlight when it comes to measuring customer satisfaction, but that seems to be changing now.
This study asked 1,900 customer service leaders about their priorities for call center metrics. When those answers were sorted based on the overall performance of the company, an interesting result emerged. Only "underperformers" were ranking Net Promoter Score highly. Maybe this is the strongest sign yet that NPS has passed its prime.
Is NPS over-rated? If so, is there a better way to measure overall customer satisfaction?
Which Metrics Are Most Useful or Popular in the Call Center Today?
The first job of optimizing the operation of a call center is to decide on the metrics you want to track. This can be a daunting task because there are many ways to analyze the data that is connected with a call center. Furthermore, industry trends lead to shifting popularity between the metrics.
The chart you see is from a 2017 study, with the metrics most commonly ranked as "very important" at the beginning.
For example, we can see Net Promoter Score is now quite low, as we discussed in the last question. We can also see a low ranking for Average Handle Time – a metric that was been around since the earliest days of the call center.
What conclusions can we draw from these changes? Which metrics are the most useful today and which are just a passing fad?
Are Phone Calls Growing or Shrinking?
Are voice interactions becoming a smaller part of the customer service picture? That's a pretty important question for everyone involved in the call center industry.
One argument that voice is shrinking is the rise of alternate channels: Instead of picking up the phone, we tweet, email or chat. So if one imagines a "fixed pie" of all customer service interactions, then the slice of that pie occupied by voice is getting smaller.
Another argument is that self-service options are getting better and better. So we need human interaction less and less. But still the data seems to show otherwise. For example, official employment stats show a steady increase in the number of people employed as agents.
How do we make sense of this picture? Can we really figure out if phone calls are growing or shrinking?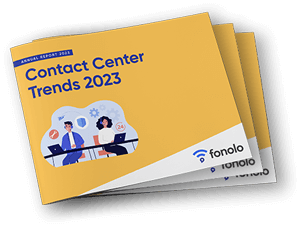 Trend Alert! Contact Center Industry Predictions for 2023
This report offers perspective on where the contact center industry stands today, plus our trend predictions for 2023.