We're here today to talk to you about *cringe* peak times.
Peak times tend to be a touchy topic for call centers. Almost every center experiences them, and most don't know how to handle the volume without adding more agents.
Every contact center is different, which means that peak times can take on various forms. Some experience the surge on certain days of the week (typically Mondays), others surge during specific times pf the day, and some only experience surges on holidays. It really comes down to the type of business your contact center is supporting; but, regardless of the variety of industries, the solution to the problem remains consistent – and it has nothing to do with workforce management (WFM).
As luck would have it, we're speaking about this normally cringe-worthy topic next week, and have invited in a special guest speaker who conquered the mountain that is the peak-time challenge. You'll hear from Ricardo Mejia, Vice President Centralized Services, First Service Credit Union, who will discuss how his contact center reduced abandon rates, improved the calling experience for customers and agents, and seized the opportunity to better manage spikes in call volume.
Join Fonolo and The National Credit Union Call Center Conference now.
Here's a sneak peek at the slides!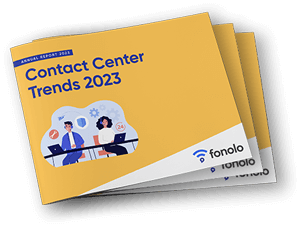 Trend Alert! Contact Center Industry Predictions for 2023
This report offers perspective on where the contact center industry stands today, plus our trend predictions for 2023.