The CX industry is an incredibly dynamic one. Its ever-changing nature means that, in order for businesses to thrive, adopting new technologies and meeting contemporary customer desires are absolute musts.
Putting an end to long hold times via our call-back solutions is certainly a part of this dynamic process, and we see the tremendous impacts of it every day with our customers. Of the many success stories, we're particularly excited to share this one: Payless Furniture.
Established in 2012, Payless Furniture processes over 5,000 furniture deliveries every month for customers across the United States. Its company mission is to provide affordable, quality furniture and delivery service while maintaining high standards of customer service. Its New York-based call center is supported by 10 customer service representatives who manage inquiries related to purchases, sales, claims, deliveries, and general customer service questions. This means that they often experience steep increases in call volume, which can create a drastic surge in customer hold times during those periods. As a result, abandon rates, frustrated customers, and strained resources were becoming reasons for concern.
Payless incorporated Fonolo's call-back option into its existing customer service operations, and with great ease. Rather than be placed on hold, customers are given the opportunity to "press 1 for a call-back". Fonolo holds their place in line until the next Payless agent is available to serve them. Agents are then notified that a call-back service will play a customized message requesting them to accept the call.
Fonolo offered us quick and easy integration that was compatible with our existing phone servers … Garon [Fonolo's Director of Customer Success] was great to deal with and had us up and running within hours. Fonolo's call-back service is so easy to use, our agents were trained on it in under two minutes.
—Jeffrey Gadeloff, Chief Executive Officer, Payless Furniture
After adding Fonolo's call-back solution into its existing infrastructure, and training its agents on the software in record time, Payless noticed a considerable reduction in abandon rates. Agents are now better equipped to manage high call volume and diverse customer inquiries in a more efficient way. Payless noted that, with the call-back option, customers are less agitated, and abandon rates and dropped calls are things of the past. The result is a win for the customer, a win for the call center, and a home run for the Payless enterprise.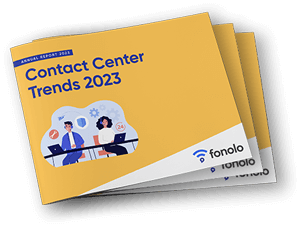 Trend Alert! Contact Center Industry Predictions for 2023
This report offers perspective on where the contact center industry stands today, plus our trend predictions for 2023.