The headlines were cranked up to eleven:
"Google's Duplex AI could kill the call center."
— Quartz.
"Google Is Reportedly Looking to Take Over Call Centers."
— Gizmodo.
As usual, the press misunderstands the role of the call center and the forces that might make it grow or sink.
The demand for real-time human-assisted help – whether by voice or text – is not primarily a result of insufficient self-service tools. There are already many ways for companies to offer self-serve interactions to their customers. Adding a new format of self-service is exciting, and potentially useful, but rarely moves the needle in the balance between self-serve and human-assisted service.
Driving Factors
If the demand for human assistance is not driven primarily by insufficient self-service tools, what does drive it? There are many factors, but the biggest barrier is the automation gap: Companies have not done the internal work to make their interactions ready for self-service.
That said, it is worthwhile exploring new self-serve options and optimizing the ones we have, but we should be realistic about what the "ceiling" is for self-service.
So what causes that automation gap? For small companies, it's because investing in those processes is too costly. Think for example, of the hair salon on the other side of Duplex's demo.
For large companies, it's often a "long-tail" issue. That is, it's wise to invest your budget in perfecting the automation of the most common requests, and leaving the edge cases for a human. For more on this see, Will We Always Need Call Centers?
Analyst Ian Jacobs put it perfectly:
Google's Duplex AI could kill the call center https://t.co/aYDr7VcyO4 via @qz Well, join the (VERY LONG) queue of technologies that were touted as contact center killers…and yet, contact centers are not just still here, but growing. #cctr #AI #custserv

— Ian Jacobs (@iangjacobs) July 5, 2018
What About the Unilateral Approach?
The now-famous demonstration where the Duplex bot called a hair salon appointment was definitely eye opening, but these kinds of SMB transactions are not handled by call centers. So there is no direct impact – at least via this use case – on the call center world.
But it did bring a smile to my face as I recalled the early Fonolo experiments where we used our own voice bots to interact with IVRs. Our goal back then was to map out phone menus and then use that map to connect consumers directly to agents. Alas, shortcutting through automated systems in this "unilateral" way proved not to be scalable. But we learned that companies are willing to meet us half-way and that led to our current business model.
The lesson there is that the right way to move transactions into the self-serve realm is for companies to put in the work to "instrument" the process so it can be available via self-serve channels. Trying to "hack" it, as we did in the early Fonolo days or as Duplex is doing with the hair salon, is not a good path forward.
Keep Your Skepticism On
Another loud headline came from The Information: Google's Controversial Voice Assistant Could Talk Its Way Into Call Centers. But that article itself waters down this claim considerably:
"In a statement, Google said that the company is focused on consumer uses of Duplex and isn't actively testing the technology with business clients. A spokesperson said businesses could be exploring ways to use the technology on their own, "… we're taking a slow and measured approach as we incorporate learnings and feedback …"
If you parse those words, that's not really saying anything.
Some Good Reading
An upside to the breathless Duplex coverage is some good writing.
This is a good post from friend-of-the-blog Tobias Goebel: Google Duplex's Conversational AI Shows a Path to Better Customer Service.
And this piece in TechCrunch tackles the tricky subject of call recording law which still hasn't been updated from the days of the rotary dial phone. (The fact that each state varies regarding "one party consent" vs "two-party consent" is totally bonkers.)
Finally, here are two recent posts from Fonolo that are relevant: What's the Ceiling on Self-Service? and How to Think About AI and the Call Center (And Not Go Crazy).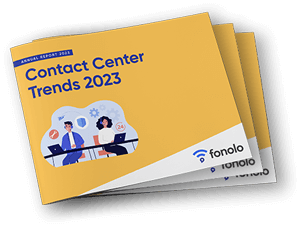 Trend Alert! Contact Center Industry Predictions for 2023
This report offers perspective on where the contact center industry stands today, plus our trend predictions for 2023.