Nothing says summertime like lounging by the pool and reading contact center industry reports, amirite? Seriously though: If you slack off with your reading during the summer months, you'll be too far behind in the autumn to ever catch up. Make sure you have already looked through the reports in our last report round-up post, too.
So, here are 5 more reports worth your time. As always, I'm grateful to all the smart folks in our industry that produce such excellent content.
Gartner's Magic Quadrant for CCaaS
Who wrote it: Gartner
Where to get it: Here. 
About: Gartner's famed magic quadrant (MQ) always elicits strong opinions. It's easy to criticize the approach of ranking all vendors on just two dimensions; both are somewhat subjective and also oddly named. Calling one axis "Completeness of Vision" always seemed a bit new-age to me. Check out Five Things to Know about Magic Quadrants for a video interview with someone who used to help create MQs. We already covered this CCaaS MQ (See "Is this the End of the On-Premise Call Center?") but it's important enough to post about twice.
Key findings:
Talkdesk makes its first appearance and is listed as a "Visionary". Talkdesk is the youngest company to ever be included in a quadrant which speaks to the changing nature of the call center world. They were able to get up to scale from scratch, partly by standing on the shoulders of platforms that didn't exist in the past. More on that here.
Avaya is notably absent. Avaya is represented indirectly since its technology powers companies like Teletech and West. With its pivot to cloud, a big question is whether Gartner will put Avaya in the next MQ.
Our favorite chart:

2018 Front Office BPO Omnibus Survey
Who wrote it: Ryan Strategic Advisory
Where to get it: Here.
About: For this report, industry analyst Peter Ryan gathered the views of 352 enterprise executives, each with decision-making authority over contact centers. The interviews were conducted earlier this year. Vertical markets in the sample base included: retail banking, insurance, health care, government, retail/e-commerce, technology, travel/hospitality/leisure, telco, born-digital, and utilities. We wrote about it here: Survey Shows Growing Popularity of Call-Backs Among BPOs.
Key findings:
The US leads in deployments of call-back solutions. This is not surprising as most call center technology companies are based in the US and so new technology spreads there first.
Cisco solutions are the most popular. This result was surprising because Avaya call centers are more common. The only region where Avaya's call-back solution was more common was Australia.
Contact Center 2.0, The Rise of Collaborative Contact Centers
Who wrote it: Brian Solis of Altimeter
Where to get it: Here.
About: This report is the result of surveying 500 employees involved in contact center solutions at companies with a formal contact center or with plans to introduce one. As an interesting twist, half of the respondents were in the US and half in the UK. Analyst Jon Arnold covered the report. His blog post is the source of the chart below. For some reason, it doesn't appear in the report itself.
Key findings:
61% of surveyed companies have transitioned their contact centers to the cloud fully, partially, or plan to transition in the near future. It's interesting to track all the different ways of measuring the cloud transition. It's tricky because "partial" transition can mean a lot of things and, of course, including companies that "plan to transition" in the total is going to inflate the number. More here.
The most common channel of interaction is email (83%) with voice coming in second (71%). The voice channel remains central to delivering good customer service. We hammer on that point very often on this blog because it can be easy to lose sight of that in the sizzle of what's going with new channels. More here.
Our favorite chart:
Inner Circle Guide to Omnichannel Customer Contact
Who wrote it: Contact Babel
About: We are big fans of ContactBabel. They consistently produce data-rich, unbiased reporting. This is the latest in their "Inner Circle" series which is based on industry surveys. (Their "The Inner Circle Guide to Cloud-based Contact Centre Solutions" was included in our last report round-up post.) For this report, they interviewed both call center executives and 1000 US consumers.
Key findings:
For "high emotion interactions," the preferred method for contacting a company (at 37%) was calling the call center, with email in second place (28%). Lots of reports will survey people about their "preferred" channels or "most used" channels for contacting a company. But it's rare for reports to show how those preferences change with the type of interaction. Clearly, consumers will feel differently about low-stakes, low-priority matters, so we applaud ContactBabel's focus on "high emotion" interactions.
Continuing from the first point: The older the respondents, the more they preferred phone calls at the expense of email. Sometimes, reports point out that younger people like chat or social media and extrapolate that, as that younger cohort gets older, those preferences will dominate. That's possible, but you shouldn't discount the fact that the attitude of an 18-year-old – and the type of interactions he has to deal with – will dramatically change when he is in his 40s or 50s.

Our favorite chart:

Eight Key Trends to Transform your Digital Customer Experience
Who wrote it: Cisco and BT
Where to get it: Here.
About: This report is unique for its global breadth. Cisco and BT surveyed 5000 consumers across 10 countries: Belgium, China, Germany, India, Netherlands, Singapore, South Africa, Spain, the UK, and the USA. This sentence in the report's intro packs in a lot: "What's strikingly clear in this year's research is the rapid rise of chat-based messaging (such as WhatsApp, Facebook Messenger, and Google Talk) …[but] they want to use these chat services alongside more traditional talk channels – the phone isn't going away any time soon." More on that here.
Key findings:
Between 2015 and 2017, the number of consumers using WhatsApp two to three times a week or more has leapt from 47% to 67% and other chat platforms increased from 38% to 66%. There's no question that chat, in all forms, has taken off in popularity.
84% of consumers have contacted a call center in the past six months, down only marginally from 86% in 2015. It's nice to see this point corroborated by the reports above. More here.
 Our favorite chart: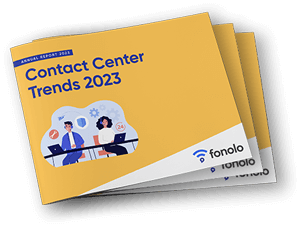 Trend Alert! Contact Center Industry Predictions for 2023
This report offers perspective on where the contact center industry stands today, plus our trend predictions for 2023.