As part of keeping up with the industry, we follow publicly-traded companies for which the call center is a significant component of their business. Earnings time has come around again, so let's see what can be discerned about the near term future of the sector. Given that this is just a blog post, consider it a casual review, focusing just on companies with recent interesting news.
This quarter we'll look at Avaya (with cloud revenue growing quickly), Twilio (with its first profitable quarter), RingCentral (with strong revenue growth) and 8×8 (with the first quarter after a product refresh).
Avaya
Avaya (NYSE:AVYA) reported revenue of $755 million, EBITDA of $187 million, and a net loss of $88 million  in its second full quarter as a public company (slides here). Revenue is down slightly from last quarter and cloud revenue is still just 11% of this quarter's total, showing how much road they have to travel to become truly cloud-centric. One could see that as a flaw or an opportunity. Recurring revenue from cloud sales are increasing (43% in the midmarket, 107% in the enterprise market, since last quarter) so things are heading in the right direction.
Lots of news this quarter: They regained top ratings from Gartner (after a one year absence); closed the Spoken acquisition; and announced a deal with Flowroute for CPaaS-type functionality. We'll have more on all this in a dedicated Avaya post shortly. (Subscribe to the blog so you don't miss it!)
Further reading:
Mostly Positive Earnings Reports for Cloud Call Center Companies
Avaya Accelerates its Cloud Pivot with Reorg and Spoken Acquisition

Twilio
Twilio (NASDAQ:TWLO) had a great quarter beating expectations with $148M in revenue and earning 3 cents per share. They achieved profitability (earlier than expected) and the market rewarded them with a big jump in share price last week.
Twilio made a big bet in the contact center space with their launch of Flex (which we covered extensively, see links below). During the earnings call (transcript here) COO George Hu said,
The #1 pain point we're seeing in the field is people wanting to move off of on-premise and into the cloud, and those are your usual suspects: Cisco, Genesys, Avaya, etc.
Further reading:
Twilio Wows the Crowd with Flex Debut
Amazon, Twilio, and Vonage Lead the Way to Pure Consumption Pricing

RingCentral
RingCentral (NYSE: RNG) continues its great run. (Look at that non-stop climb in share price!). It reported revenue of $161M, up 34% from last year, but the net loss per share ($.10) is also higher compared to last year. Recurring subscription revenue (ARR) is up 32% year-over-year. During the call, CEO Vlad Shmunis, repeated his common mantra: "Cloud is winning, and RingCentral is winning in the cloud." Transcript here.
We're still waiting to see a major move on the contact center front. Will they build or buy? If they build, odds are good it will be on top of the Amazon/Twilio stack that has become the norm.
Further reading:
Mostly Positive Earnings Reports for Cloud Call Center Companies
The Twilio / Amazon 'Stack' Will Dominate the Next Call Center Era

8×8
8×8 (NYSE:EGHT) reported that their total revenue increased 20% year-over-year to $83M. CEO Vik Verma, focussed his comments on their new "X Series" product line which they launched in March and reached general availability in the US and UK this quarter. Verma calls it "the industry's first cloud solution to integrate voice, conferencing, collaboration and contact center on a single platform."
We wrote about their acquisition of MarianaIQ in June. It was surprising to see no mention of it in the earnings release or conference call.
Further reading:
Public Company Earnings Show Cloud Call Center Strength
5 Intriguing Call Center Acquisitions from the First Half of 2018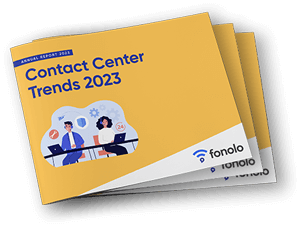 Trend Alert! Contact Center Industry Predictions for 2023
This report offers perspective on where the contact center industry stands today, plus our trend predictions for 2023.