We deal with a lot of buzzwords and phrases that saturate the customer service industry, some of which have become a little bit tired. One in particular that we really detest here at Fonolo is "Delight your customer". Personally, when I hear that phrase, I experience a range of emotions. It seems to be healthy balance between shock (Why in the world would one use that phrase?) and sheer irritation (sort of akin to nails on a chalkboard!).
But, hey, who am I to judge? These things are all just a matter of opinion, right? We all have go-to vocabulary that we either love or loathe. Still, there are two words in particular that I feel everyone should pay attention to. These words hold true sustenance and can dramatically impact the success of your contact center team: customer care and customer satisfaction. The problem is that some companies, while familiar with these terms, really don't connect with them on a deeper level. How you attend to your customers' happiness levels and overall satisfaction requires critical thinking.
Let's spend some time deciphering what these words mean and why they should be top of mind.
Why Fuss Over Customer Care?
Companies are pouring more and more resources into building a strong customer experience (CX). This process starts with ensuring you have the right customer care team in place. Customer care means looking after customers with a clear objective towards their satisfaction. In other words, it's how well companies take care of customers. Instead of just going through the motions of your service protocol, you're actively listening to consumer needs and finding a clear solution to their problems.
And: It's personal. The idea is to build an emotional connection with the customer. This is where most companies will face a challenge. Only the finest customer service agents have the emotional intelligence to incorporate 'caring' into their customer service strategy. If your department isn't at that level, be sure to invest in the necessary training.
Let's paint you a picture: Imagine a hair salon. A woman goes in for a haircut complaining about split ends and dry hair. In scenario one, the lady's hair is washed and cut – her problem has been fixed. In scenario two, the woman's hair is washed, then a conditioning treatment is applied to care for her dry hair, after which her haircut is texturized in such a way to avoid split ends returning sooner than they should. The final touches include a finishing spray to add shine.
Customer support is performed in scenario one, but customer care is delivered in scenario two. It is in this scenario that true satisfaction will be reached  … which brings us to our next, most important word!
Customer Satisfaction = Customer Loyalty
One of the many reasons I continue to shop at Lululemon, a Canadian athletic apparel retailer, is because of how they stand behind their products. I'll give you a great example: Three years ago, I took up long-distance running and bought a pair of Lululemon running pants. A year later, the inside hem was coming undone. I brought them to the store and they gave me a brand new pair, no questions asked. I wore those pants for another two years and found a similar problem occurring (I clearly wore them way too much!). Again, without question I was given a new pair of pants, AND in their latest model. Because of the care they put into their service, my satisfaction is still through the roof. I would NEVER shop anywhere else for athletic gear.
The point here is that customer satisfaction really does translate into customer loyalty. The key to customer satisfaction (CSat) is having a clear understanding of your customers. Ask yourself:
What do they appreciate?
How can you make your product/service better?
What can you do to exceed their expectations?
Figure out the answers to these questions and you'll have your best foot forward. For more information on CSAT, check out this whitepaper. It's an effective playbook that contact centers can follow to improve customer satisfaction.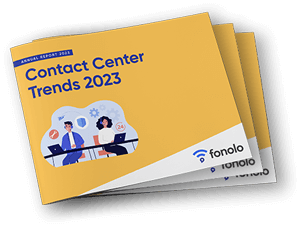 Trend Alert! Contact Center Industry Predictions for 2023
This report offers perspective on where the contact center industry stands today, plus our trend predictions for 2023.